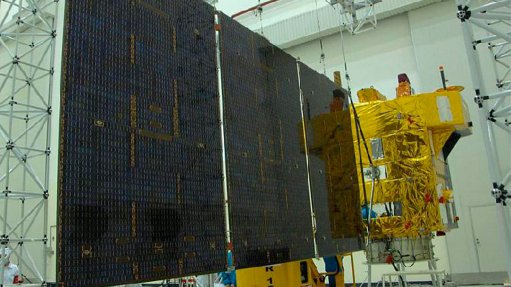 The joint Brazilian/Chinese CBERS-4 satellite will form part of the planned Brics virtual EO constellation
Photo by: INPE
The five Brics countries – Brazil, Russia, India, China and South Africa – agreed at a meeting in Haikou, China, on Monday, to create a Brics Remote Sensing Satellite Constellation. This will be the first substantive Brics cooperation in space research.
The idea of such a constellation had already been floated, and the conference at Haikou discussed the proposal, before agreeing to it. The meeting also discussed a draft agreement on the matter, that will be signed later this year.
It is currently proposed that the Brics Remote Sensing Satellite Constellation be implemented in two phases. Phase 1 would create a remote sensing data sharing system, making the data from each of the member countries' existing Earth observation (EO) satellites available to all the other members as well. Phase 2, which will be further discussed and defined in the near future, will involve the creation of a new EO satellite constellation.
Phase 1 is described as creating a virtual constellation. The space agencies of the five countries agreed that its implementation would be a concrete move in developing high-technology cooperation within the group. It will also assist all of them to reach their sustainable development goals as well as other social and economic objectives. It is further expected that this project will re-stimulate the strategic partnership between the five countries.
The five space agencies involved are the Agência Espacial Brasileira (Brazil), the China National Space Administration, the Indian Space Research Organisation, Roscosmos (Russia) and the South African National Space Agency (Sansa). "We remain committed to ensuring the integration of African space-based knowledge and technology in improving the lives of fellow Africans and welcome such esteemed partners in achieving this important objective," affirmed Sansa CEO Dr Val Munsami.
Brazil and China have a joint (now 50:50) EO satellite programme known as CBERS (China-Brazil Earth Resources Satellite), with CBERS-4 being the current operational spacecraft in the series. China also operates its own EO satellites (the Gaofen series) as does Russia (the latest series are designated Resurs). Brazil has developed its first entirely indigenous EO satellite, Amazonia-1, which should be launched late next year. South Africa currently does not have an operational EO satellite larger than a nanosat; its next full-size such spacecraft will be EOSat-1, currently being developed. It is expected that the flight model EOSat-1 will be completed by 2019/2020.