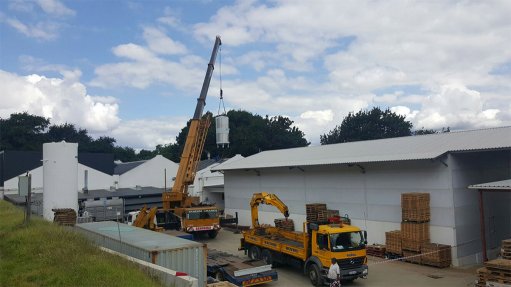 INSTALLING A BREWING SYSTEM E3 Energy Group of Companies had to custom design the 10 000 ℓ storage vessel it installed at Cape Brewing Company
Western Cape-based brewery Cape Brewing Company (CBC) has, with the help of renewable- energy company E3 Energy Group of Companies, produced what it says is South Africa's first commercially available green beer, using water heated by the sun.
The beer-brewing process requires water of 85 °C. In CBC's case, this heat had previously been generated using a paraffin boiler, which is largely the standard in the brewing industry. However, it is an expensive form of heating that creates emissions harmful to the environment and to humans.
The new system installed by E3 at CBC's premises, however, comprises 12 m² × 10 m² solar thermal collectors, which transfer heat to a new 10 000 ℓ storage vessel through a heat-exchange station. The station transfers heat from the fluid in the solar panels to the fresh spring water stored in the vessel.

The mandate for the project was to reduce CBC's paraffin fuel costs by a minimum of 50% by providing the company with free thermal energy produced by the sun, thereby lowering the carbon footprint of the brewing process, reducing production costs and directly benefiting its bottom line.
E3 says the solar thermal panels were designed and produced in Austria and have now been used for the first time in Southern Africa.
It is standard in the food and beverage industry to make all system components that come into contact with the product from stainless steel. This meant that E3 had to custom-design the storage vessel, the heat-exchange station and all the interconnecting piping.
The system is remotely monitored by E3, enabling the company to manage it appropriately and identify opportunities to further improve the efficiency of the system, based on the brewery's production needs.