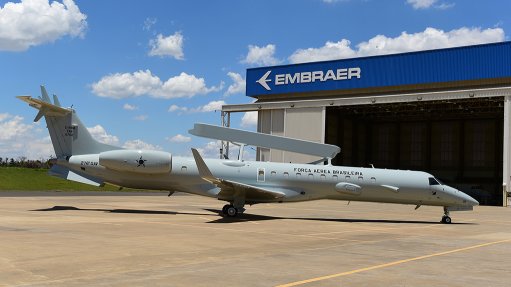 The first upgraded E-99M for the Brazilian Air Force
Photo by: Embraer
Brazil-based major aerospace and defence group Embraer announced on Friday that it had delivered the first modernised E-99M airborne early warning and control (AEW&C) aircraft to the Brazilian Air Force (abbreviated to FAB in Portuguese). The E-99M (M stands for modernised) is known to Embraer as the EMB145AEW&C, and was derived from the company's highly-successful ERJ145 50-seat regional airliner. (More than 1 200 ERJ145s have been delivered, accumulating some 30-million flight hours.)
AEW&C aircraft are flying radar stations and control centres, able to detect intruder aircraft, particularly low-flying ones, at far greater ranges than ground-based radars and then direct friendly fighters to intercept the intruders and either identify them (in peacetime) or engage them (in wartime). (Intercepting and forcing down drug-smuggling aircraft is one of the FAB's peacetime missions.) Embraer is one of only a few companies that has developed this category of aircraft.
"For Embraer, it is a privilege to continue meeting [the] FAB's needs to keep this robust and modern aircraft updated," affirmed Embraer Defence & Security president and CEO Jackson Schneider. "It plays a strategic role in Brazil's defence system and has already proven its operational effectiveness."
The first E-99 made its maiden flight in 1999 and the type entered operational service with the FAB in 2002. Originally designated the R-99A (R for reconnaissance), it was re-designated E-99 in 2008 (E for electronic warfare). The radar, mounted in a longitudinal 'beam' or 'bar' above the fuselage, was supplied by Ericsson (now Saab). Five were built for the FAB, followed by four for the Hellenic (Greek) Air Force, one to the Mexican Air Force and three to the Indian Air Force (these being fitted with Indian-developed radar and associated electronics).
All five of the FAB's aircraft were being modernised. The process included the updating of the type's mission systems and subsystems. These included its aerial surveillance radar, command and control, electronic countermeasures and electronic warfare systems. The E-99M was fitted with six mission planning and analysis stations. The modernisation process also involved international suppliers, including Aeroelectronica International, Rohde & Schwarz and Saab. The contracts with the international companies included technology transfer agreements.
Embraer Defence & Security subsidiary company Atech participated in the development of the aircraft's new command and control system. "As part of Embraer's growth strategy for the coming years, we have invested in diversifying our business portfolio of defence and security with innovative solutions to better meet the defence global market needs, which goes far beyond our jets," explained Schneider.