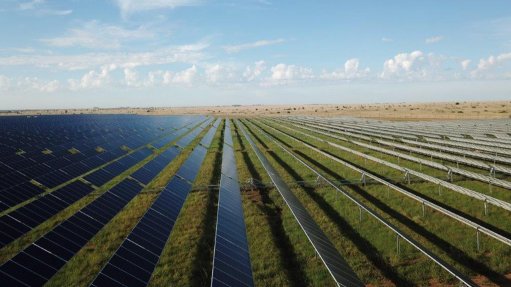 Bokamoso Solar
Bokamoso Solar, situated near Leeudoringstad, in the North West province, has started commercial operations.
The 67.9 MW solar photovoltaic (PV) power plant and several others currently under construction are expected to have put the North West on the map as a player in the renewable energy sector, not only in terms of delivering additional power to the country's national grid, but also benefitting the rural communities through impactful economic development programmes.
Bokamoso Solar is 100% South African owned, a significant differentiator and proof that the green power sector is an attractive option for local investors, say project owners, the IDEAS Fund, managed by Old Mutual; Reatile Solar Power; Phakwe Solar; Business Venture Investments; and the Cicada Community Trust.
Bokamoso Solar is currently the largest solar PV power project in the province, with 236 580 solar panels harnessing the North West sun.
The solar plant has begun generating 177 660 MWh/y of green electricity.
The plant, on which construction started in November 2018, is built on a 150 ha project site.
Over 450 people from the local beneficiary communities were directly employed on the project during construction. This is in addition to the employment created through the contracting out of various services.
During its 20 years of operation, the project is set to benefit a large number of communities, spread within a 50 km radius of the project site, through various economic development programmes.
Bokamoso Solar's socioeconomic development projects will be focused on education, youth development, health, food security and welfare. The programmes have been chosen following research and engagement to ensure that they are well informed and will strengthen the beneficiary communities.
Moreover, a percentage of the revenue generated each year will be committed to implementing enterprise development initiatives, to build resilience and accelerate the growth and success of entrepreneurial businesses, ultimately stimulating local economic growth and creating opportunities for the economic participation of previously disadvantaged groups.
The focus is on small and microenterprises and designed to enhance growth. To deliver on this objective, the establishment of a local resource centre, for use by local small, medium-sized and microenterprises and communities at large, will support this drive to support development, while the provision of accredited skills training will be provided to startup businesses.