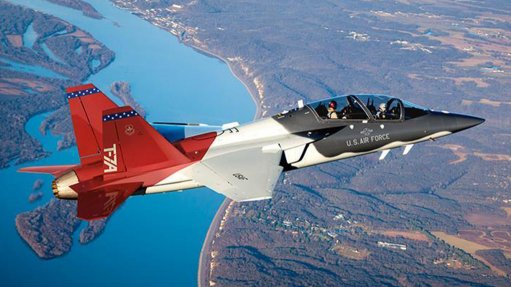 One of the prototype eT-7A trainers
Photo by: Boeing
US major aerospace and defence group Boeing announced on Wednesday that it had started production of the eT-7A advanced jet trainer for the US Air Force (USAF). The eT-7A had been jointly developed by Boeing and Swedish aerospace and defence group Saab. The Swedish company was manufacturing the new aircraft's rear fuselage.
Boeing would be manufacturing its sections of the eT-7A on a totally modern production line. The prefix e- in the aircraft's name indicated that it was developed using totally digital design and engineering processes. The T- prefix indicates that it was a trainer. The USAF had also assigned it an official name: Red Hawk.
"This is a historic moment for the programme and industry," affirmed Boeing VP of T-7 Programmes Chuck Dabundo. "The build process leverages full-size determinant assembly, which allows technicians to build the aircraft with minimal tooling and drilling during the assembly process. The digital process accounts for a 75% increase in first-time quality."
Digital design and engineering allowed Boeing and Saab to go from the firm concept stage to the maiden flight of the first prototype in only 36 months. (That first flight was in December 2016.) Two prototypes, originally designated T-X, were built and flown.
As prime contractor, Boeing was awarded a $9.2-billion contract by the USAF to produce 351 Red Hawks, plus 46 associated ground-based training simulators. These simulators would be latest-technology systems that would provide live and virtual training experiences. For instructors and students alike it would be 'as real as it gets' training, while staying on the ground. The aircraft and simulators combined were referred to as the Advanced Pilot Training System.
"The future of air dominance lies in the ability to move quickly, take smart risks and partner in new ways to get the job done," highlighted Boeing senior VP of strike, surveillance and mobility Shelley Lavender. "By creating aircraft and systems along a digital thread, we can accelerate build times and increase quality and affordability for our customers in a way that has never been done before."