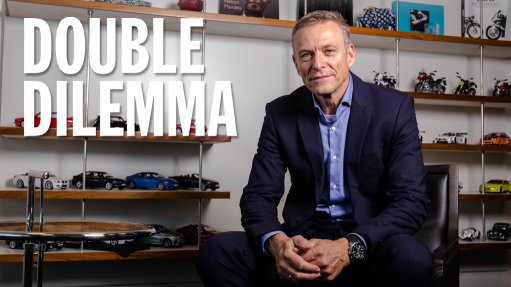 The name Peter van Binsbergen may sound German, but the new CEO of BMW Group South Africa and sub-Saharan Africa (BMW SA) carries a South African passport and ID. He can also still speak Afrikaans, despite spending several years abroad.
The 54-year-old, who took up his new position on January 1, started his career with the BMW Group more than 25 years ago, when he was responsible for product planning, marketing and sales at BMW SA.
Following that, he worked in a number of countries, including China and Japan, before returning to Johannesburg as the first South African CEO of BMW SA. Prior to taking his seat behind the CEO's desk at BMW SA's headquarters, in Midrand, he was the senior VP for customer support at BMW in Germany.
"My last working month in South Africa before returning as CEO was February 2003," says Van Binsbergen.
He says he has seen significant change in a number of areas in the country after being away for 18 years, bar a holiday in the Cape every now and then.
"One word to use would be progress –the urban sprawl in Midrand, the modern architecture in Sandton that can compare with any other city in the world.
"South Africa has also progressed in terms of industrialisation, especially when I look at our plant in Rosslyn that now produces right- and left-hand-drive X3s for the world, with almost 30% of its electricity needs coming from renewable sources."
Van Binsbergen says he understands that demographic representation in the workplace has not progressed as fast as "we would want it to", but notes that "a certain kind of post-apartheid normalisation" has taken place.
He says he would like to actively play a part in driving transformation in the automotive industry and deepen BMW's focus on "impactful educational programmes".
"Our corporate social investment initiatives for empowering and educating the South African youth to become future leaders is a cause that is close to my and BMW's hearts."
What is also good to see is that certain things have not changed, including the beauty of the countryside and the spirit of the South African people, he adds.
Premium Market
Van Binsbergen says there are two challenges he will need to tackle during his tenure at the local arm of the German carmaker – a struggling premium market, and the effect of a global electrification drive on the South African automotive landscape.
BMW SA saw local sales drop from 18 261 units in 2018, to 15 006 in 2019, and to 9 878 units in a Covid-hit 2020.
Last year was also the year BMW SA launched a new retail sales model – in January – being the first country in the world to do so.
"It's a totally new way of selling cars," explains Van Binsbergen. "It's a direct sales model. We, as BMW SA, are selling cars directly to the end customer, and our retail partners (dealers) are our agents."
This provides several benefits for the customer, he believes.
"Our customers can see all the stock in the country, and they are no longer limited to what the dealer has available in the basement and wants to sell them.
"Customers can have any model, any colour and any specification."
The second benefit is that customers can shop any time of the day on a dedicated online portal.
"Also, because it's a direct sale, we as BMW set the price – which means there is only one price for the same model all over the country.
"This takes away the haggling process, which means it removes the uncertainty in customers' minds that they may have missed out on a good deal."
Another benefit is that the new model stabilises the residual value of BMW vehicles, as "discount spirals" tend to play havoc with preowned prices.
Yet another benefit is that stockholding can be reduced.
As online customers can immediately see the entire available BMW stockholding in the country and place their orders from anywhere in South Africa, retail partners do not have to carry excessive stock to cater for all possible preferences, says Van Binsbergen.
"This is important, as South Africa is a big country and the sales volumes are not that high."
The new retail model does, however, add some costs to BMW SA's tab now and then, as the carmaker sometimes has to move a vehicle to the retail partner nearest to the customer.
The agency model has been running for a year now, and Van Binsbergen says he has been "getting good feedback" on what he believes is a truly "customer-centric model".
"Customers say they are happy, we are happy, and our retail partners are happy – none of them has asked me to go back to the old model.
"Yes, they did struggle with it at the beginning, but I have already visited 90% of them, and they have come to terms with it."
When talking about 2020 BMW sales, Van Binsbergen describes the drop to below 10 000 units as "a real low point" for the group.
"For me, there is only one way to go, and that is upwards. This is a benchmark we can never get back to."
Consumer confidence in South Africa is at an all-time low, he adds, which affects the premium market more severely, but that confidence is coming back now.
"I believe we are past our low point. We are set to grow from this year; that is our ambition."
Production at the BMW plant in Rosslyn, Pretoria, reached around 50 000 units last year, with demand from export markets worldwide diminished, owing to the Covid-19 pandemic.
"For us, production in 2020 was about equal to that of 2018, with 2019 a really good year for us at around 69 000 units."
Roughly 97% of BMW SA's production is exported.
Vans Binsbergen says the Rosslyn plant has been hit by the global shortage of semiconductors but does not believe that this will influence the production plans for this year too much.
"It is affecting us, but we'll compensate. We could, however, sell more cars in the domestic market if we could secure more production."
SA Premium Market Viability
"The South African premium market contracted by around 36% last year, compared with a 30% drop in the overall market," says Van Binsbergen.
"We ended the year with a 31.7% market share, which means that we remained number one in the local premium market."
This year has already seen some recovery in BMW SA's domestic sales, he says.
In fact, he believes that the domestic premium market should recover to pre-Covid levels by 2022.
But can South Africa sustain a viable premium car market, especially when considering continued emigration and a shrinking tax base?
"I believe we can, no question about it. We have an inherently strong economy. Yes, there have been dips, but South Africans want premium cars. They want the safety, the technology – they want to differentiate themselves from others."
But, for BMW SA to win more customers, the company will have to address the issues of affordability and peace of mind, adds Van Binsbergen.
"We need to tackle issues such as questions around balloon payments, for example.
"We need to take maintenance costs, insurance, monthly payments, end-of-term payments, all of that, and produce attractive finance packages, so we can get customers back into the premium segment.
"We are currently working with our financial partners to look at the possible solutions we can offer customers to get behind the wheel of a BMW or Mini."
Electromobility
Another challenge for the new CEO and his team is when and how to react to the electric revolution, which seems to be swiftly rolling out, especially in the global premium sector.
BMW is currently the leader in battery electric vehicle (EV) sales in South Africa, with its BMW i3 and electric Mini.
However, South Africa sold a mere 92 EVs in 2020, or 0.02% of the total 380 206 vehicles sold in the domestic market, down from 154 units in 2019.
Also of significance to the South African automotive industry is the forecast that 40% of new-vehicle sales in Europe will be EVs by 2030, and that this proportion will increase to 80% by 2040.
With three out of four South African-manufactured vehicles currently exported to the European Union, this poses a serious threat to domestic production, as no local vehicle manufacturer currently produces EVs.
By 2023, BMW will have 25 products on the global market that are 'electrified' – with this term referring to hybrids, plug-in hybrids and EVs.
"Our industry is driven by product innovation. If you have new products, you sell cars – that is the way our industry works.
"This means we'll be losing out if we don't participate in the global electromobility drive.
"It also means that we need to find the right use case for South Africans to buy electrified cars for us to participate in this model offensive," he adds.
"It is important to bring customers the benefits of driving an EV – the pure silence, the dynamics, the low maintenance, never to stop at a petrol station again.
"We have to make sure that South Africans truly grasp these benefits. It is our job to expose these benefits to customers. We have to answer South Africans' questions to make sure that these vehicles work for South African customers.
"That is what we are working on at the moment. We can't stop the EV revolution – it's already happening."
Van Binsbergen says BMW SA will bring three new full EVs to the South African market in the next 18 months.
The first will be the iX, which is a purpose- built fully electric sports-utility vehicle (SUV), closer in size to the X5.
The next is the iX3, which Van Binsbergen describes as the perfect car for South African conditions.
The iX3 shares its platform with the diesel, petrol and hybrid X3 models.
The i4 is a fully electric 4 Series Gran Coupé.
"This is a perfect family car, with healthy range and acceleration similar to an M vehicle," says Van Binsbergen.
EV Production
He says BMW SA is looking at securing hybrid and EV production for the Rosslyn plant, as more than 60% of exports from the facility are currently destined for Europe and the UK.
"The entire auto industry in South Africa is intensely working on this right now. We need to make our industry futureproof, especially now that everything has moved faster than anyone expected, and particularly so in Europe, where a big part of the automotive industry's recovery from Covid-19 has been tied to electromobility incentives."
Van Binsbergen says there are two things "we don't want South Africa to become".
"The one is [to be] the last country in the world to produce internal combustion engines (ICEs). So, while everyone goes electric, we fall behind.
"Secondly, we cannot produce new-energy vehicles (NEVs) for the world, but not sell them locally. That would also be wrong. It has to be part of our future."
NEVs are all types of propulsion other than ICEs, and include EVs and fuel cell vehicles.
"I am lobbying BMW headquarters to secure NEV production, saying that BMW SA wants to be part of the worldwide NEV production network," says Van Binsbergen.
"We are also asking the South African government to give us the necessary tools to convince headquarters that we should be part of that network."
The South African government in May issued a Draft Green Paper on the Advancement of New-Energy Vehicles in South Africa, with the aim to look at incentivising the production and sale of NEVs in South Africa.
"We have had very constructive dialogue both ways," says Van Binsbergen. "Government is listening and headquarters is listening."
He adds that it is important to include all types of NEVs in any new government policy document, as not all vehicle manufacturers are at the same phase in their production cycle.
"Some have just invested and have a full cycle to go. Maybe the next step for them is a battery electric vehicle. Others are at the end of their cycles and the next step would be a hybrid.
"This also means that we require a phased approach when rolling out support to NEV production."
Part of this phased approach should be to allow South African vehicle manufacturers to initially assemble NEVs with more imported parts, with the intent to localise components as the model ages.
Government's auto plan, the Automotive Production and Development Programme (APDP), currently provides support to local vehicle manufacturers based largely on the volume of locally made components used, as well as the number of vehicles produced.
"We have our local suppliers for our current X3, and we are working to increase localisation," explains Van Binsbergen.
"However, as soon as we add hybrid or EV production, a major component of those vehicles is a lithium-ion battery, and there are no local battery suppliers at the moment.
"To develop these suppliers in time will be a challenge. In fact, the biggest challenge will be putting the current APDP localisation framework on an NEV.
"So, any new policy or policy change can't be a step change; it has to be a phased approach."
Another benefit of a phased approach is to consider how all technologies are playing out across the world before fully committing to any specific one, says Van Binsbergen.
"Before we invest big in any technology, we, as South Africa, should allow it to become clearer what the best battery technology will look like.
"That question needs to be answered first and a country like South Africa should make sure it does not jump too soon."
Van Binsbergen emphasises that the current electric revolution is a seismic shift in the global automotive world, and that it requires, above everything else, that the entire local industry works together to tackle the challenges head on.
"The unions, government, component makers – we all need to work together. The risk is that we lose production volume to other countries and that is exactly what we don't want to happen."