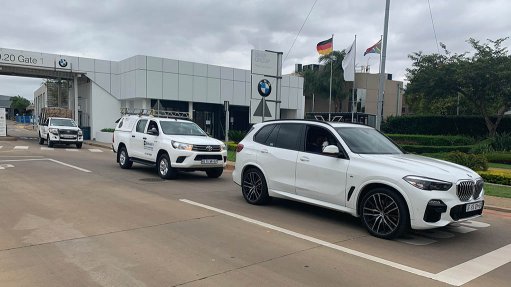 German car maker BMW and the German government will assist in upgrading eight South African hospitals and four clinics in the fight against Covid-19, in a project valued at R76-million.
BMW will contribute 2.7-million Euros, with the German government to add 1.6-million Euros.
In a virtual signing ceremony on June 29, BMW CEO Oliver Zipse, German Federal Minister of Economic Cooperation and Development Gerd Müller, together with Gauteng Department of Health head Professor Mkhululi Lukhele and BMW Group South Africa and Sub-Saharan Africa (BMW SA) CEO Tim Abbott, announced upgrades to eight hospitals and four clinics in Gauteng, North West and Limpopo.
Improvements will include upgrading the Soshanguve Combined Clinic, near BMW SA's Rosslyn manufacturing plant, to a Covid-19 testing and screening centre.
The company has also provided a fully equipped ambulance and cars for transporting patients to the various hospitals in the region.
The project will also bring 320 000 medical-grade N95 masks to South Africa.
At the Dr George Mukhari Hospital in Soshanguve, the accident and emergency facilities will be significantly upgraded and 300 beds added.
An additional 300 beds will be added across the region, with a further 150-bed overflow facility to be provided in Bronkhorstspruit, bringing the total of additional beds to 750, said Abbott.
Supplementary to this, four community clinics in Soshanguve will be provided with a supply of face masks, disinfectant and other personal protection equipment.
"In a global crisis like the Corona pandemic, solidarity matters more than anything else," said Zipse.
"We help where help is particularly needed. That is why, in cooperation with the Federal Ministry of Development and the South African government, we support the development of the health infrastructure at our site in Gauteng."
"The project in Gauteng is part of our Corona response programme, which we use to combat not only the health crisis, but also the severe economic crisis in South Africa," added Müller.
"Here companies that are represented locally, like the BMW Group, are important partners in German development policy."
Abbott noted that the plan was to intervene in an area of need at the most critical time.
"I'm pleased we are able to cooperate with the German government in [this] R76-million investment. We build more than just cars and we need international solidarity and governments working together with the private sector during a global crisis.
"We've been building cars in Rosslyn for almost five decades. We are part of this country and we are committed to its future. More than at any time I can remember, now is the time society needs to pool its resources."
Abbott said there had been a small number of Covid-19 cases at BMW SA, but that they were managed before the disease could spread. All the cases were also of Covid-19 contracted outside BMW.