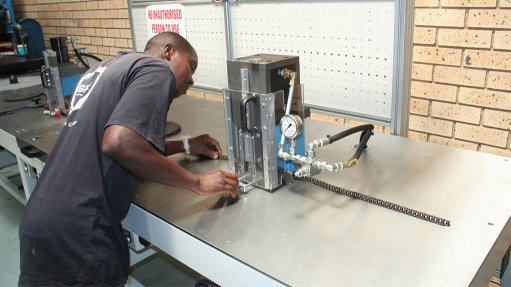 LONG LASTING Tsubaki Lambda chains are oil impregnated and offer a longer life compared with conventional chains
Engineering components supplier BMG says its Tsubaki high-performance chain products incorporate standard and custom attachment chains, which are critical to the efficient movement of products along a production line.
"Conveyor chains often fail prematurely because insufficient consideration was given to the forces on attachments, or to environmental influences on the conveyor system," says BMG power transmission business unit manager Carlo Beukes.
He points out that the standard and custom Tsubaki attachments – including extended and folded link plates, extended pins and other chain fittings – are linked to the basic roller chain, to provide a highly tailored engineering solution, that meets the precise requirements of every conveying application.
"Tsubaki attachments enable both single and double pitch chain to be customised in conveying in food and beverage, and pharmaceutical plants, as well as in automotive production and general manufacturing."
Beukes explains that the characteristics of conveyed materials and working environments are different for each application, which is why the use of correct components is critical for specific conveying systems.
He says the company offers a full technical support service for the selection of the best chain product for every application and its team is able to advise on suitable attachments, correct intervals of installation of the attachments and the required characteristics of the slats and rods supporting the load.
"BMG has an accreditation to provide a specialist assembly service for Tsubaki chain products. The company has a dedicated facility at BMG World in Johannesburg, where special attachment chains are assembled to exact requirements and delivered in less than one week."
He adds that BMG's customers are able to specify a range of standard Tsubaki attachments on any suitable American or British chain product, of up to 50 m in length.
"There is no compromise in terms of component specifications and quality standards are guaranteed. BMG's assembly service means customers do not need to invest in expensive stockholdings of specialised attachment chains for a particular machine."
Tsubaki's Innovative Attachment Chain Applications
BMG stocks a range of standard Tsubaki components, as well as speciality attachment chain options, for applications including can-processing and book-binding. Beukes says the packaging sector uses flat-topped chains, thermoforming gripper chains and special extended pins.
He indicates that, in tray-packing applications in the beverage industry, machines require pushers to be fitted to the transport chain. He adds that its bespoke solution includes attachments, efficiently mounted by an engineered extended pin. "This contamination-free system is designed for reduced wear and does not need lubrication."
Buekes recommends that, for the food industry – which typically requires corrosion-resistant components – the Tsubaki Neptune series of carbon steel chains, or fully stainless steel chains and attachments would be applicable.
"In applications where a maintenance-free solution is important, Tsubaki's Lambda range is recommended. This series does not require relubrication and there are no contamination risks to finished products. Lambda chains are oil impregnated and offer a longer L10 life(L10 is the calculated design lifetime of the product), compared with conventional chains."
Beukes says the company is also able to replace an existing chain with a Tsubaki attachment chain, that is manufactured to specific application requirements. In each case, productivity is enhanced and operating costs are reduced.
"As an example, a conveyor system passing through an oven at a manufacturing plant, suffered premature chain wear, which negatively affected product quality. To solve this problem, a conveyor chain was manufactured with special features and tailored attachments, including hardened chromium-plated pins and a dry lubricant that provides high lubricity, even at elevated temperatures inside the oven."
He says the result was substantial cost savings, as well as a gain of 60% chain life, resulting in major production gains.
In another case, he explains that, in a local chocolate manufacturing facility, chain elongation and lubrication starvation, resulted in high maintenance costs and loss of production time for that particular company.
Beukes says the solution was the installation of the Tsubaki Lambda lube-free chain, fitted with an attachment that connects with the moulding trays. "The replacement chain has an extended chain life. Maintenance requirements are minimal, which means reduced lost production time."
He points out that the company is able to supply attachment chains with a specific length tolerance, or length-matched chain sets for exact alignment – delivered tagged for easy identification and installation.
"This conforms with the requirements of specific conveyor applications, where chains need to run in parallel, for instance, in packaging machines, or when a minimal difference in chain length is required in lifting applications, such as accumulator towers."
Tsubaki chain products are manufactured with special materials, coatings and lubrications and undergo an immaculate production process to ensure dimensional accuracy, constant geometry, high surface quality and long service life, Beukes concludes.