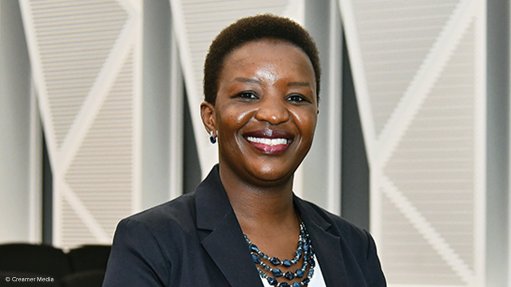 BLSA CEO Busi Mavuso
Photo by: Creamer Media's Donna Slater
In this week's Business Leadership South Africa (BLSA) newsletter, CEO Busi Mavuso bemoans the UK authorities' decision to keep South Africa on the "red list" for travellers.
The UK imposed a traffic light system to determine the correct Covid-19 precautions related to travellers, which is reviewed by the government every three weeks.
It takes into consideration the percentage of a country's population that have been vaccinated, the rate of infection, prevalent variants of concern and the country's access to reliable scientific data and genomic sequencing.
BLSA and the Southern Africa Tourism Services Association have advocated for South Africa to move to the "amber list" in the latest traffic light review, which occurred late last week.
South Africa has now been on the "red list" for quite some time, which requires that travellers quarantine on arrival for 11 nights in government-controlled facilities at considerable personal expense.
Mavuso says this is a dramatic disincentive to tourists and an effective barrier to businesspeople, as they can seldom afford ten days of forced isolation at their own expense.
She deems the consequences as significant for both South Africa and Britain.
This while the UK authorities removed Turkey from the "red list", even though the country is experiencing more than 23 000 new Covid-19 cases a day, with a population of 82-million.
Mavuso compares this with South Africa's latest statistics, showing an average of 4 000 new cases daily, with a population of 58-million. Of course, both Turkey and South Africa are below the infection rate of the UK itself, which is averaging 29 000 new Covid-19 cases a day, with a population of 37-million.
She motivates that the Beta variant is no longer prevalent in South Africa – which the UK has been concerned about in its traffic light criteria – and only comprises 1% of new infections in South Africa.
Even if South Africa were to come across a dangerous new variant, it has among the best genomic sequencing capabilities in the world and it would be identified quickly, Mavuso points out.
"The UK is now an outlier in its treatment of South Africa-sourced travellers. The European Union (EU), Canada and the US have allowed vaccinated travellers from South Africa without further restriction.
"This flies in the face of the UK's post-Brexit strategy of becoming 'Global Britain', but indeed the European Union (EU) is proving more global than the UK," Mavuso states.
For context, she highlights that Britain exported R62-billion of goods to South Africa in the financial year ended March 30 and imported R90-billion of goods. The UK is South Africa's second-largest trading partner behind the EU.
For the UK, South Africa is the largest trading partner in Africa.
BLSA and large corporations wrote to UK Prime Minister Boris Johnson prior to the latest traffic light decision, urging him to reassess restrictions on Southern Africa, which frustrate trade and have a severe impact on the lives of those who depend on travel for business, education, sport and cultural exchanges.
Mavuso points out that 440 000 UK travellers visited South Africa in 2019, and spent more than R10-billion combined, making it the most important overseas market for tourists to South Africa.
"The lack of a clear rationale for the UK's decision risks creating resentment towards the country at a crucial time in its engagement with the rest of the world. This is particularly sensitive for South Africans who have close cultural and familial ties to the UK.
"Apart from business links, many families split between the two countries have been unable to see each other for over 18 months because of the travel restrictions," she laments.
She urges the UK to take a balanced approach in assessing South Africa during its next review.
"There needs to be clarity on the scientific basis for the risk categorisation of South Africa, and due regard for the business, cultural and developmental relationship between the two countries," Mavuso says.