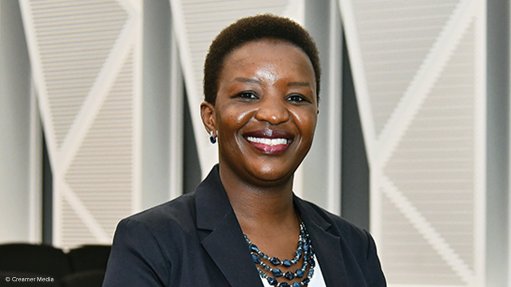 BLSA CEO Busi Mavuso
Photo by: Creamer Media
Business Leadership South Africa (BLSA) CEO Busi Mavuso is urging South Africans to "face the realities of the pandemic" or risk facing a worse spike in infections that will ultimately do more damage to the economy and public health.
In her weekly newsletter, she laments that the Covid-19 pandemic "remains extremely dangerous" as infection rates continue to rise.
The economic scars of the crisis are deep, she adds, noting that South Africa now has 1.8-million fewer jobs than before the pandemic, while many more South Africans are now working less, or at lower salaries.
"While some try to draw an either/or distinction between the health and economic decisions we must make, it is clearly a false dichotomy. Those lost jobs have a health impact, [and] it means households cannot afford to access healthcare when they need it or maintain preventative measures like good nutrition or keeping up to date with vaccinations," Mavuso notes, adding that "social grants can relieve the pressure only to an extent".
"The best way to have a healthy population is an economy that is working at capacity and growing," she adds.
In this regard, Mavuso emphasises the importance of compliance with Level 1 lockdown regulations, as these should be "non-negotiable", and that people should continue to wear face masks in public.
"To not do so is to recklessly endanger others, as well as yourself," she says, urging businesses to insist that staff and clients comply, regardless of where they are.
Additionally, she suggests that staff who are able to work from home, should do so if they are able, and urges full compliance as the festive season approaches.
"We are likely to have some areas with infection rates that we cannot contain on Level 1 regulations alone. From a business perspective, it is critical that we leave as much of the economy to operate as possible," Mavuso notes.
Should economic activity need to be shut again, South Africa "must do it in a way that focuses on the areas where infection rates are most in need of control, with minimal collateral damage to the wider economy".
This means keeping lockdowns localised, allowing the rest of the country to function as close to normal as possible.

From a public policy perspective, meanwhile, Mavuso notes that effort needs to be put into developing a regional approach to lockdowns to deliver the best outcomes.
"We need a policy approach that sets out what levels of infection rate will trigger additional measures and what rules will apply. If we get that set down, we can then look at the complexity involved in enforcing them. I expect businesses would widely support such an approach and add resources necessary to manage compliance," she concludes.