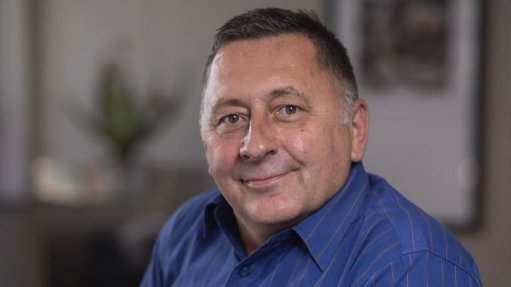 MIKE STUART National Rubber Matmin has had success in supplying products to the Australian mining sector
With the industrial market aspect of its rubber business having declined in 2019 by 25%, rubber compounding specialist National Rubber Matmin (NRM) MD Mike Stuart says 2020 is "not looking much better".
This is particularly owing to the small, medium- sized and microenterprises (SMMEs) in this market, which have had a shrinking order book, owing to factors such as low-cost imports from the Middle East, the instability of State-owned power utility Eskom and high labour costs.
"Not much has been done to come to our aid, and we, the rubber producers, have to seriously cut down on our manufacturing costs and aim to work smarter," he tells Engineering News.
Further, Stuart states that there are currently very few locally produced raw rubber materials. With the closure of synthetic rubber manufacturer Karbochem in 2018 – the only local supplier of synthetic polymer to the rubber industry at the time – the local rubber sector was forced to rely on imports.
"The price was adversely affected by the weak rand, as well as our increase in stockholding of this material, which, in turn, affected our cash flow. Also, with a declining market and Europe-based machine suppliers, the rubber sector is caught between a rock and a hard place," he comments.
Stuart notes that venturing into the export market would be "a key factor" for NRM's survival in the ever-decreasing local market.
NRM, as a custom rubber compounder, constantly follows and looks to incorporate the latest international innovations such as cost- and energy-saving initiatives.
"Added to that is our trialling some of the latest raw materials to improve the quality and strength of our rubber compounds," he enthuses.
Moreover, the company's main scope of supply is within the mining industry – locally and internationally.
As the mining industry is always looking to procure products that have a longer life and are energy efficient, Stuart highlights that it is a constant challenge for the company to meet its requirements.
However, NRM has had success in supplying products to the Australian mining sector, owing to the company's increasing the life of those particular products by 50%, with no additional cost to clients.
"We are constantly suggesting to some of the smaller companies that are still doing their own in-house mixing to consider outsourcing their mixing to us. This is because their mixers are traditionally old in terms of age and technology."
The NRM hopes to see improvement in this regard in 2020 and beyond, concludes Stuart.