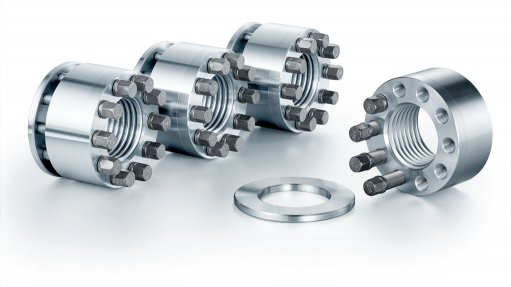 ENSURING PRETENSION FORCE The HEICO-TEC Tension nut has been developed for applications where it is difficult to use a pneumatic, electric or hydraulic tool to tighten the nut
Although the implementation of a hot-rolled coil (HRC) safeguard duty in South Africa aims to protect and support the local steel manufacturing industry, its unintended consequences for downstream customers are placing further pressure on an economy already under stress, says fastener products supplier The Fastener Factory MD Darryl Campbell.
The safeguard duty was proposed following an investigation by the International Trade Administration Commission of South Africa, which determined that there had been an unexpected surge of HRC cheap imports into South Africa, impacting negatively on the local industry. Engineering News reported last month that Trade and Industry Minister Dr Rob Davies had confirmed his sign-off on the safeguard duty.
However, Campbell stresses that a blanket increase in duties on HRC imports impacts on products, such as fasteners, not typically manufactured in South Africa. "This means that consumers are having to pay up to 30% more on certain imported products . . . This is not protecting our industry or the economy, in general."

He explains that fasteners are often imported as local manufacturers cannot manufacture products from certain ranges or of certain sizes or materials, such as stainless steel products or higher-grade products such as 10.9 or 12.9. Many local fastener factories also face capacity constraints that influence the amount of fasteners they can produce, or technological constraints that do not allow for the manufacturing of some products using existing machinery.
To meet the demand for high-quality, cost-effective fasteners in South Africa, local manufacturers will need to invest significantly in updated machinery. However, this is unlikely to be a viable alternative in the short term amid current local economic challenges, Campbell points out.
"Although fasteners are normally a small portion of the cost of any final product, the impact of an increase in import duties on HRC products is going to be felt by the end-user customer, especially if the product it manufactures has a number of fasteners on it."
He adds that local fastener manufacturers, which have traditionally had a very static route to market, will need to reinvent themselves or change their strategies to remain competitive, or risk falling by the wayside. "Those companies that have invested in innovation and . . . changed their route to market, as well as their sales strategies, seem to be the ones making a success of their manufacturing plants. We need to see more of this in the local industry."
Survival Strategy
To manage the effects of the safeguard duty on its products, The Fastener Factory, which imports its range of specialised products from Germany, is amplifying its focus on offering customers products and services that are of the highest quality.
"We have been fortunate to enter the South African market with a great deal of experience and we will use this as we continue to grow our market share in fasteners and related products. We are in constant contact with international manufacturers and we keep up to date with their latest products and innovations. Our knowledge of the market and experience will enable us to source products either from local manufacturers or international suppliers within a short period at the right price for our customers."
The Fastener Factory, the Southern Africa representative for German manufacturer the Heico Group's range of fasteners in Southern Africa, is also launching two new products: the HEICOTEC Tension nut and the HEICOLOCK Combi washer. These will be available in South Africa from September.
The HEICO-TEC Tension nut has been developed for applications where it is difficult to use a pneumatic, electric or hydraulic tool to tighten the nut and achieve the required pretension force. This nut is turned by hand and thereafter tightened with a standard torque wrench on pressure bolts positioned around the nut, which proceed to push pressure pins against a hardened disk, creating the required clamp load in the fastener. These removeable and reuseable fasteners are available in Strength Class 8 and 10.
Campbell explains that the HEICOLOCK Combi washer is a wedge lock washer that is made unique by an inner locking ring on the washer, which holds the pair of washers in place; it is flexible for use on various types of bolts. The ring holds onto the thread of the bolts, ensuring that the bolt is held in place and the washer does not fall off while assembling the nut onto the bolts. This is particularly useful in applications where several fasteners are being assembled and in positions where alignment is necessary, eliminating the complication of having to pick up bolts that are falling out.
Further, HEICOLOCK HLK washers for steel construction, launched in January, are suitable for construction bolts that have an underhead radius, as the washers are chamfered on the internal diameter to ensure optimal surface contact while tightening. The Fastener Factory has also imported a range of rivets and stainless steel fasteners that it is supplying to original-equipment manufacturers and distributors.
"Our range of products has been tested in railway applications, as well as in mining and automotive applications, where existing bolts and nuts were coming loose; we have, thus, been able to ensure that these fasteners do not loosen, even under severe vibration and dynamic loads. We are confident that our commitment to quality will help us to continue to grow our customer base in Southern Africa, despite the challenges we face," concludes Campbell.