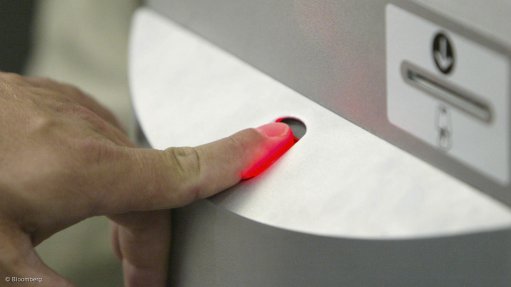 NEW TECHNOLOGY Biometric technology could prevent cybercriminals from obtaining user data
Photo by: Bloomberg
Before South African businesses start to invest in new security technology, old security flaws need to be addressed to ensure maximum security, says professional services firm KPMG.
KPMG cyber security lead Jason Gottschalk explains that new authentication technology will increasingly be of value, even though cybercriminals or cyberterrorists do and will continue to try to bypass the existing as well as new-to-market authentication security systems through using the back-end of security systems by accessing servers through the Internet rather than the front-end where users would be working on workstations.

"New technology, however, such as biometric security systems, can be used by companies for the very important task of authenticating employees accurately, with the aim of protecting access to company servers and with that, confidential information," says Gottschalk.
Biometric security uses fingerprints, eye- and facial-recognition software, as well as any metric that uses human characteristics to identify a person.
He highlights that, when a business uses a biometric system, it will be used as an alternative to the usual password authentication that most systems have. However, one of the challenges that the biometric security industry is facing is that people are fearful of giving someone their biometric data.
"Additionally, it has been difficult for businesses to invest in systems that won't pay for themselves in the short term. "There is also some concern regarding information leaking from the systems, which has made it challenging to get people to learn the biometric environment."
Gottschalk points out that the cost of basic biometric systems can also be high – even installing a simple fingerprint scanning system to replace passwords. However, despite some of the risks and hesitation involved in using biometric security systems, it is still a better alternative to using passwords.
"From an authorisation and authentication perspective, biometrics is certainly better than passwords, owing to the different types of data used like fingerprints, palm prints and facial recognition needed to access the systems. In the future, these systems might be more difficult to bypass as their accuracy improves with the addition of . . . a person's DNA," he says.
Gottschalk indicates that next-generation technologies are already in use at some international airports, such as the IRIS scanner/facial recognition system in use at London Heathrow Airport, in the UK.
The technology uses a camera system that scans irises from a distance, which automatically confirms that the scanned person is in the correct area as well as automatically deducts ticket prices from their linked credit card account.