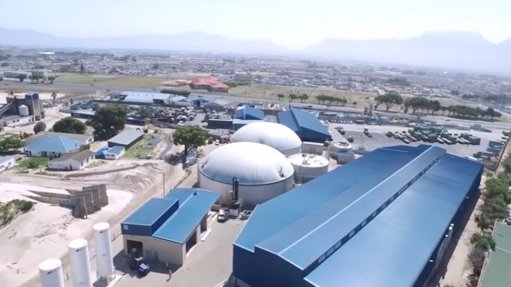 NEW HORIZONS The recently completed biogas upgrade project in Athlone
The measureable and sustainable development of South Africa's biogas industry requires projects, and therefore a favourable Renewable Energy Independent Power Producer Procurement Programme (REIPPPP) allocation to prove sufficient financial viable in order for financial institutions to provide the necessary funding.
Biogas organisation the Southern African Biogas Industry Association (Sabia) stresses that measuring the viability of biogas projects depends not only on an attractive return on investment, but also on the additional benefits, such as environmentally sustainable waste management, carbon mitigation, job creation and skills transfer, which can also contribute towards convincing decision-makers to implement such a plant.
"A biogas-specific feed-in tariff or incentive would go a long way towards kick-starting what is still a fledgling industry in South Africa," says Sabia chairperson Mark Tiepelt.
Although the REIPPPP was hugely successful in developing other renewables, such as wind and solar, it did not result in a single biogas plant making a successful bid – the only biogas-related project approved was a 18 MW landfill project in Round 3, although Ministerial determinations set aside 110 MW of biogas capacity.
The reason for the low uptake in the REIPPPP was due to the high cost of preparing a tender and the low bid cap of R0.93/kWh for biogas, explains Tiepelt.
He notes that the organisation is petitioning the Independent Power Producer office for a higher bid cap rate in the order of R2.50/kWh for biogas projects, adding that this would be similar to the initial bid cap for solar photovoltaic (PV) generation projects and concentrated solar power (CSP) generation projects, which had bid caps of R2.85/kWh during the first round of the REIPPPP in 2011.
"The first three REIPPPP rounds allocated 93c/kWh for biomass projects – this included biogas – which meant that, ultimately, implementing a biomass or biogas project would not be financially feasible, given the initial high capital investment required," Tiepelt says.
He adds that the allocation of R2.50/kWh is necessary to enable the comparatively small renewables sector to "find its feet" and allow for larger-scale biogas projects to become viable. Further, as with CSP and solar PV, Tiepelt expects that, once the biogas industry has received adequate support from government, the rand per kilowatt hour price of biogas will drop.
Biogas Current State
Tiepelt describes the local biogas industry as a "fledgling sector", compared with its counterparts in Europe and Asia, but adds that the potential – locally and regionally, in terms of the African continent – is huge.
Currently, the lack of incentive from government, combined with biogas being a "relatively capital-intensive solution", has ensured that most South African biogas projects are in the megawatt range with private offtake agreements. Smaller projects below the 1 MW range were normally motivated not only by the generation of own electricity, but also by the multiple benefits associated with a biogas plant in terms of waste management, 'free' thermal energy through the capture of the waste heat of the biogas generators, carbon mitigation and job creation.
Tiepelt cites the first large-scale waste-to-energy plant in Africa, the Bio2Watt's Bronkhorstspruit biogas project that has an offtake agreement with BMW in Pretoria and the recently completed New Horizon biogas upgrade project, in Athlone, with an offtake agreement for compressed methane and carbon dioxide with welding and gas products supplier African Oxygen (Afrox) as examples of large-scale commercial projects.
The New Horizon project is a R400-million biogas plant expected to create 80 full-time jobs and about 300 indirect jobs. It is owned by clean energy company New Horizons Energy, a subsidiary of Clean Energy Africa. An offtake agreement with Afrox has been signed.
Tiepelt notes that the primary offtake partners in both of these large-scale projects are not parastatal entitles, but independent companies.
He adds that, although there is scope for these large-scale projects, the biggest potential for biogas in South Africa lies with the smaller projects below 1 MW and more specifically below 500 kW installed capacity. Currently, biogas plants are coming on line for smaller businesses such as abattoirs, piggeries and dairies, where the energy produced is primarily for own consumption and not fed into the national grid.
Tiepelt believes that a developed industry could leverage the technologies of sectors that are well developed in South Africa, such as civil contractors, suppliers of related equipment such as pumps, valves, steel tanks, agitators and general mechanical and electrical contractors.
Additionally, he notes that municipal wastewater treatment works (WWTW) have taken to upgrading or introducing anaerobic digesters on site, using the waste sludge to generate a significant amount of energy for plant operations. The Northern Works WWTW, in Johannesburg, recently commissioned a 1.1 MW biogas plant providing electricity for own consumption.
Further, as the biogas sectors in Europe are becoming saturated, he notes that local industry can generate much-needed foreign investment, adding that companies from Germany, Denmark, Italy and other developed countries are very interested in the development of a local biogas industry.
Tiepelt reiterates the importance of government assistance, noting that every successful biogas sector abroad was supported by favourable feed-in tariffs and government incentive schemes. Local industry needs government and various stakeholders to be aware of biogas's benefits, he highlights.
Some of the benefits of a sustainable South African biogas industry include clean and sustainable energy, sustainable waste management, significant job opportunities, measurable skills transfer, production of organic fertiliser and carbon mitigation.
Meanwhile, Tiepelt, a panellist at previous Africa Energy Indabas, says Sabia will exhibit at the 2017 event at the Sandton Convention Centre from February 21 to 22.
He says the organisation's main objective at the Indaba will be to foster awareness of the measurable benefits of biogas and lobby for support from relevant stakeholders