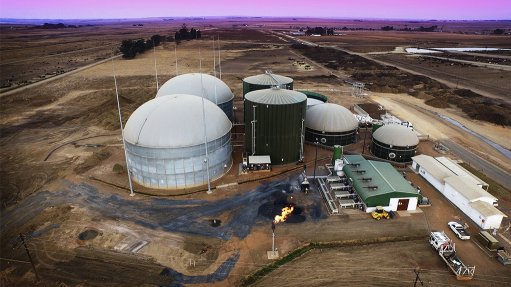 POWER-TENTIAL Biogas has the potential to contribute significantly to the power mix in South Africa and globally
South Africa has the potential to generate upwards of 10 000 MW of power if it were to harness and capitalise on all biogas opportunities; however, the greatest challenge is not a lack of capacity but more the lack of market opportunity, says Southern African Biogas Industry Association (Sabia) chairperson Jason Gifford.
Speaking during the Sabia webinar launch of its Biogas Market Position Paper, Gifford mentioned that the South African biogas industry is flourishing and holds vast potential for greener power generation.
However, he noted that biogas is being used for embedded consumption, which is power used at the source for its own operational purposes.
He pointed out that many biogas plants could have the capacity to supplement the grid if or when the municipality allows a plant to feed back into the grid.
A part of Sabia's strategic vision going forward includes urging all municipalities and State-owned power utility Eskom to buy back surplus electricity generated from biogas plants at published mega-flex rates from independent power producers.
The association also aims to incentivise the energy generation and use from livestock manure through targeted policies such as specific rural schemes for micro-scale digestion that result in benefits such as energy security and independence.
Further benefits include the reduced use of solid fuels for domestic cooking and heating, and reduced deforestation while improving agriculture security through the recycling of nutrients and water.
Given the climate warming trajectory, initiatives such as the promotion of biogas should not simply be seen as alternative solutions, these should be recognised as essential to global survival and the reversal of the past 200 years of carbon dumping in the atmosphere in the name of technology advancement.
"When one understands that energy production from a system such as anaerobic digestion is only one of the products of the process, the true value of the technology can be harnessed," says Department of Science and Innovation environmental services and technology director Henry Roman.
"The appropriate financial framework and market support are all that are required to enable this truly circular economy."
He stresses that the year 2030 is a landmark year, not just for South Africa but globally as well, and the move to a greener circular economy is needed now more than ever.
He explains that it is not well known that energy is one of many by-products of anaerobic digestion, which is the process of converting waste through which bacteria break down organic matter in the absence of oxygen.
Anaerobic digestion collects methane which is a carbon neutral form of renewable energy.
Additionally, by-products such as nutrient rich digestates can be used as fertilisers, and feedstock for ethanol production.
The final output from anaerobic digestion systems is water, which is derived both from the moisture content of the original waste being treated and water produced during the microbial reactions in the digestion systems.
This water can be used immediately and requires no further treatment.
Knowledge Sharing
The technology being developed by South Africa for the biogas sector can be used for similar developing economies globally, says World Biogas Association (WBA) president David Newman.
He adds that South Africa holds the potential and tools to develop and share this technology beyond its own borders.
He advocated a new report compiled by WBA, 'Pathways to 2030', which is scheduled to be released in March and will look at how South and Southern African countries can change their trajectory to a greener economy.
Sabia concludes that a simple shift in perspective is all that is required to change the paradigm for the better.