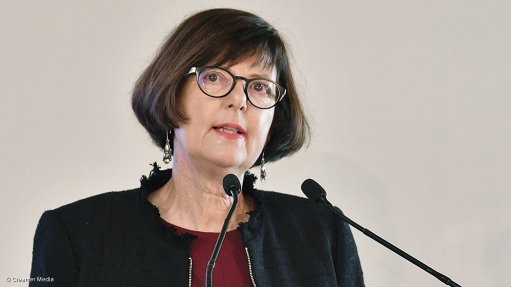 Barbara Creecy
Photo by: Creamer Media's Dylan Slater
JOHANNESBURG (miningweekly.com) ­– South Africa is one of the world's top three mega biodiverse nations along with Brazil and Indonesia, said Environment, Forestry and Fisheries Minister Barbara Creecy in her address to the Oppenheimer Research Conference (ORC).
"We are thus one of the richest countries in terms of the diversity of plants and animals both marine and terrestrial and levels of endemism," said Creecy. (Also watch attached Creamer Media video.)
Although the contribution of biodiversity to South Africa's economic, social and spiritual wellbeing was difficult to measure, it was significant and essential to health and wellbeing.
Creecy reiterated that South Africa's National Development Plan recognised this wealth and required that future generations be left an environmental endowment of at least equal value to the current one.
"Although we are not yet meeting international targets, our conservation growth is growing both on land and on sea," Creecy said.
The marine side had been a star performer given that 20 new marine protected areas had been recently declared.
These new ocean parks had increased South Africa's marine ecosystem under protection by 1 250% overnight, from 0.4% to 5.4% of this country's oceans.
"But it is not just a question of the size of these parks. Unlike many of our game parks, these ocean parks have been identified scientifically and provide protection to an impressive 90% of our marine habitat types," Creecy told the ORC, covered by Mining Weekly Online.
These ocean parks, in terms of government priority, would not only protect South Africa's rich marine biodiversity but would also contribute to the sustainability of the fisheries and fishing industry, which the Minister described as being a perfect example of sustainable development, evidence-based policy making and valuable outcome of the Operation Phakisa oceans economy initiative.
Creecy last week launched South Africa's third national biodiversity assessment, aimed at providing South Africa with a clear picture of how it had performed on conservation since 2004 and 2011.
The assessment is the primary tool for monitoring and reporting on the state of biodiversity in South Africa and it is prepared as part of the South African National Biodiversity Institute's mandate to monitor and report regularly on the status of biodiversity.
The putting together of a cross-section of panellists, especially the one on challenging the conservation paradigm discussion, is expected to contribute to the ongoing debates around the concepts of sustainable use and access and benefits sharing that are the foundations of our conservation approach.
"Conservation consciousness cannot be the exclusive domain of the select and privileged few. It must be a key component of our environmental literacy.
"Making environmental biodiversity and climate issues everyone's issues is not just the work of one department but it is the work of our nation as a whole," Creecy emphasised.