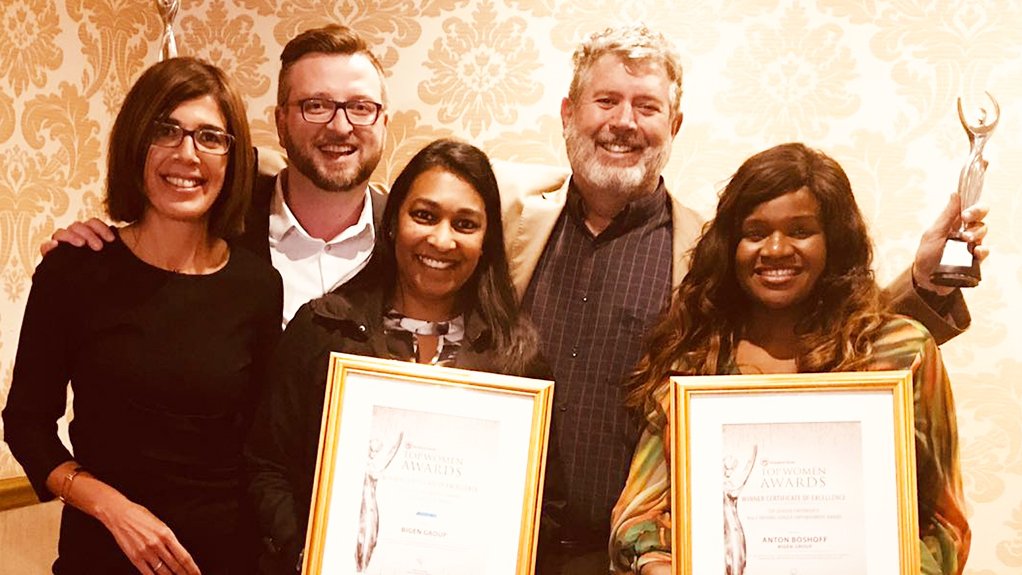 The Bigen Group, an innovative and solutions-focused infrastructure development group, earned two sought-after Standard Bank Top Women Awards.
Bigen was named Top Gender Empowered Company in Infrastructure Development and CEO Anton Boshoff the Top Male Driving Gender Empowerment at the annual awards ceremony held on 23 August.
The awards were motivated by Bigen's outstanding commitment to women empowerment, applied actively within employee ranks and on every infrastructure development project undertaken across Africa.
"The Bigen team is immensely honoured by these awards," says Boshoff. "They are a welcome recognition of our focus on infrastructure development inclusivity through prioritising women empowerment, on operational and socio-economic levels. Our formal policies on maximising socio-economic development on all infrastructure development projects are driven by a strong humanitarian spirit embodied in our creed of doing good while doing business. Where possible, these investments focus on women and youth in the communities."
The formal policies driving the group's socio-economic development aspirations have been embedded within its business strategy. This includes consultative assessments by community and project teams of opportunities to further training and skills development, on-site job creation, local supplier and business development and socio-economic infrastructure.
This strengthening of Bigen's already influential lead in providing sustainable socio-economic benefits across Africa, was embraced in its recently improved corporate brand and supported by expanding its portfolio of services geared to greater inclusivity and beneficiation, especially for women and youth. Core capabilities in transportation, energy and health were expanded to complement its traditional and trusted range of water, sanitation and real estate services.
The impact of socio-economic projects is quantified by a Bigen-developed mobile application, ImpactPro, which captures statistics that quantify benefits created such as jobs and empowerment.
The socio-economic impact of the group's infrastructure development projects is documented in an annual Bigen Development Impact Report, commissioned by Boshoff in 2017.
Empowerment initiatives launched under Boshoff's guidance include:
Women Investing in Infrastructure (WIiI), a women-led joint venture with Bigen stakeholders to empower especially rural women affected by a lack of infrastructure.

PRISM, a company established to assist in screening feasible projects for bankability.

The African Infrastructure Preparation Facility (AIPF) founded to fund bankable projects based on the Group's visionary, proactive approach to accelerating the infrastructure development revolution on the continent and the need to field obstacles such as lack of adequate funding.
Internally, Bigen drives gender equity by offering women employees abundant career development opportunities, including training and mentoring aligned with the requirements of the Engineering Council of South Africa (ECSA). This focus earned Bigen the Consulting Engineers South Africa (CESA) Mentoring Company of the Year awards in 2012, 2015, 2016 and 2017.
Bigen operates from its head office in Pretoria and seven other offices across South Africa, as well as offices in Ghana, Botswana, Namibia and Zambia, and has for 46 years been assisting governments in meeting their socio-economic development goals through infrastructure development.