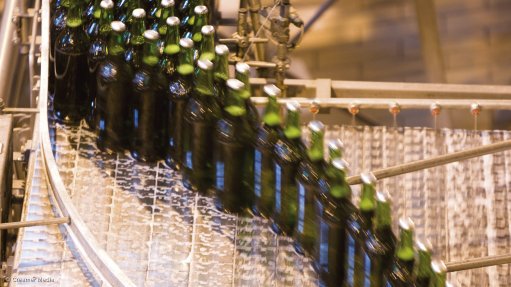 EXTENSIVE PORTFOLIO SAB has a large number of clients across the African continent
Photo by: Duane Daws
Earlier this month, multinational beverage and brewing company Anheuser-Busch InBev (AB InBev) subsidiary South African Breweries (SAB) appointed Doreen Kosi its legal and corporate affairs VP.
The company explains that Kosi has vast experience in the private and public sectors and has also done extensive work in the fields of youth, children, women and community development.
In recognition of her contribution to these sectors within Africa, she received the accolade Africa's Most Influential Woman in Business and Government 2017 from the company's global CEO, one of the most coveted tributes on the continent.
"Kosi has extensive experience in the private and public sectors, with great energy, passion, insight and leadership ability. I'm really looking forward to working with her," says AB InBev Africa and SAB zone president Ricardo Tadeu, adding that he is pleased to have appointed someone of Kosi's calibre.
Kosi says SAB has a formidable reputation as a progressive and leading corporate in South Africa, and its combination with AB InBev has brought together the best of both companies.
She points out that, before being appointed to SAB and AB InBev, she spent four years as group public affairs executive at South African pharmaceuticals giant Adcock Ingram. Further, she has more than 16 years' experience in the public service and has represented government and led delegations on strategic assignments locally and abroad.
She explains that she started her career in the public sector at the National Department of Education, then moved to The Presidency of the Republic of South Africa, where she served in the tenure of four Deputy Presidents as strategy and special projects chief director.
While working at Adcock Ingram, Kosi crafted a group strategy to improve the company's stakeholder relations and reputation. She also played an advisory role to the Adcock group's board, CEO and group executive committee on government policies, operations and political nuances. In addition, she was the custodian of Adcock Ingram Group's political relationship and protocols and corporate responsibility programme.
Kosi explains that she is tasked with heading SAB and AB InBev's Africa Zone corporate affairs portfolio, which includes public policy, sustainable development, corporate social invest- ment and enterprise development, communications, as well as legal services.
She holds a master's degree in management from the University of the Witwatersrand (Wits), with a focus on strategic development and implementation. She earned certificates through the Management Advanced Programme at Wits Graduate School of Business Administration, and in public relations and community relations from the Public Relations Institute of Southern Africa. She completed the Wits Business School Women in Leadership course.