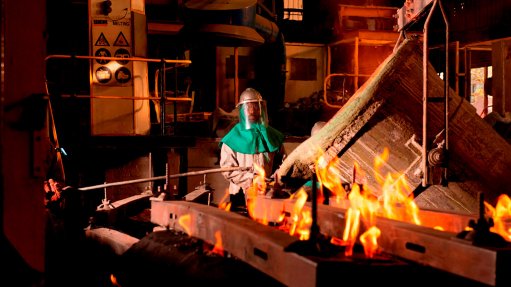 WINNING CAST Weir Minerals Africa's Isando foundry is capable of producing castings of up to 1 t
Maintaining world-class operational efficiencies at its manufacturing facilities in South Africa is one of the factors that has allowed mining equipment supplier Weir Minerals Africa to expand its footprint in the region.
Local manufacture, which is currently a key driver for the country, especially within the mining sector, is not a new strategy for Weir Minerals Africa. Significantly, over the more than 65 years that Weir Minerals Africa has operated on the continent, ongoing investment has been made in its three manufacturing operations to ensure that they operate using best practice systems and processes.
Weir Minerals Africa operations director Hloni Ledwaba tells Engineering News that this high level of commitment to local manufacture is not only the action of a responsible multinational engineering business, but also about a sustainable business model that creates employment opportunities and allows the upskilling of people, all of which is aimed at offering economic participation at a local level.
"Our manufacturing operations are in Alrode and Isando, in Gauteng, as well as Port Elizabeth, in the Eastern Cape, where we operate a Heavy Bay Foundry (HBF)," Ledwaba continues as he unpacks the facilities highlighting the capability of each.
The HBF in Port Elizabeth was acquired by Weir Minerals Africa in 2013, and it is here that all castings larger than 1 t are cast. This foundry, which has received significant upgrades since it was acquired, can accommodate individual castings of up to 18 t. There are currently three floor moulding lines at this operation, and Ledwaba says that further investment will see the construction and completion of a fourth moulding line this year.
"The fourth line will double our large casting capacity, and enable us to improve delivery to our existing customers as well as to expand further into this market," he says. The investment being made in this expansion is just over R30-million.
The Weir Minerals Africa Isando manufacturing facility has three distinct value streams, according to Ledwaba. The first is the foundry, which comprises three foundry lines and produces castings of up to 1 t.
An important investment at this foundry was the carousel system which has enabled an efficient production line process for small castings. "The carousel is used for single or multicavity moulds, and allows us to produce high volumes and facilitates high variability requirements. This is important not only for meeting local supply requirements, but also improves our capacity for international supply," he says.
The carousel also facilitates high levels of repeatability which is important in components such as wet-end parts where quality is critical to the reliable performance of pumps.
Heavier castings, between 150 kg and 350 kg, are produced on the fast loop line at the Isando site. Here, a similar concept to the carousel is used, also ensuring good repeatability.
The well-equipped machine shop at the Isando facility handles the machining of all castings. Significant investments in sophisticated machinery include a multipurpose machining centre with Industry 4.0 communications capability and two of machine tools builder Mazak Integrex's 5 axis machines to reduce setup and run times.
The last value stream at the Isando site is the rubber moulding plant which produces components used in products such as pumps.
Regarding the Alrode site, Ledwaba says that, in addition to its large manufacturing footprint, this facility is also the regional distribution centre for Weir Minerals Africa and services its customer bases spread across Africa and the Middle East.
Ledwaba says there is roughly a 50:50 split between locally manufactured product supplied to South African customers and customers across the border in Africa, while other Weir Minerals operations across the globe include Australia, North America, South America, Russia and Europe.
Products manufactured at this facility include the Warman slurry pumps range as well as dewatering pumps, Cavex hydrocyclones and Enduron screens. This operation also houses a rubber facility which manufactures rubber pump and Vulco mill lining systems, and mouldings using its vulcanising presses. This facility also manufactures made-to-order Linatex hose sections and bends as well as other Linatex rubber linings.
Staying competitive in the local manufacturing environment is important for Weir Minerals Africa, and to achieve this Weir's global production systems, which are based on lean manufacturing philosophies, have been adopted.
"We have also implemented a sophisticated manufacturing execution system (MES) at our facilities. MES has been designed to track and analyse machine performance at a granular level and the data is aggregated to provide an accurate overview of each manufacturing facility's performance. This gives us the ability to closely monitor and improve performance in individual sections of each facility and timeously intervene should this become necessary," he says.
"Tracking our manufacturing operations at this level allows us to implement continuous productivity improvements, again driving down costs, and this proactive approach is further enhanced through collaboration between the three facilities to ensure best practice learnings are shared."
All three facilities are International Standards Organisation (ISO) 9001:2015, ISO 14001:2015 and Occupational Health and Safety Assessment Series 18001 accredited. Most significantly, the Weir Minerals Africa HBF is the first of the South African local manufacturing operations to transition to ISO 45001 and Ledwaba says the new international standard will be implemented at the Isando site this year and at the Alrode site in 2020.