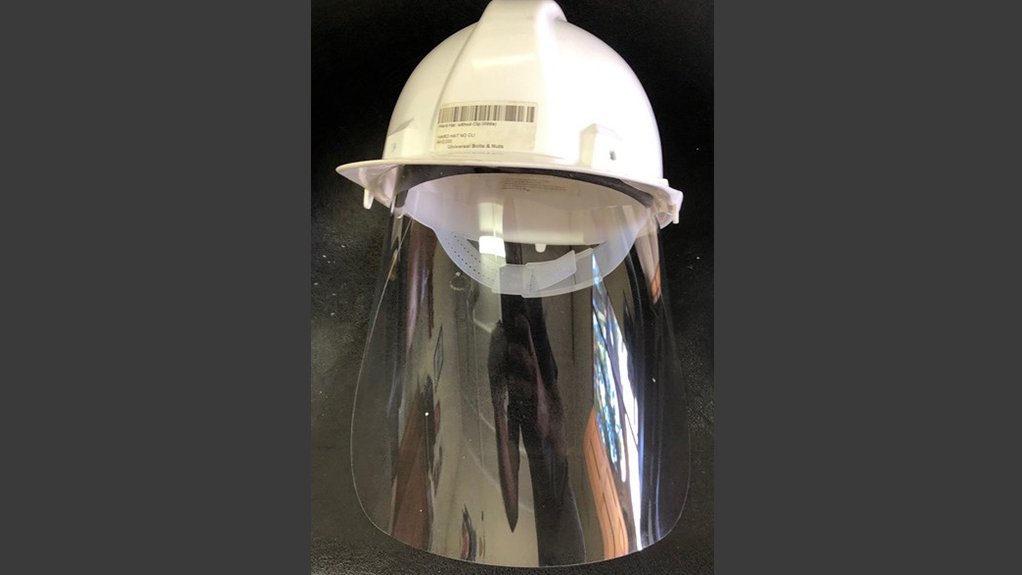 Polymer bushing and wear material producer Vesconite Bearings has prototyped a face shield in response to the global call to produce personal protective equipment for medical personnel.
Some 30 prototype shields, including five with holes, have been sent to a health facility for testing and to verify that the design, which includes a construction helmet and a visor, is valuable and user-friendly.
Having produced some of the 3D-printed "Alice bands" and screens, produced by hobbyists – typically face shields made with an "Alice band" to which a face-covering plastic sheet, (sometimes made from glycolized polyester), is attached, the company sought an easier and quicker solution.
The company subsequently developed a prototype polycarbonate version of the shield, which is attached to a typical mining or construction hard-hat.
This was mostly because it was not content with the two and a half hours it took to make an individual Alice band-type shield. Using the new design, Vesconite Bearings was "able to make 30 shields in two and a half hours," states moulding department head Christian Brumloop.
Besides reducing production times, the design prevents droplets from potentially infecting health-workers by landing on their heads, from where droplets could be later transported to the eyes, nose or mouth.
The hats are also riveted, and the shields drilled so that they can be fitted together without additional connections; the design is thus complete and does not require a third party to attach the shields to three-dimensional (3D) printer produced bands.
The company has, further, drilled five hats with holes to determine whether this improves temperature control and reduces the fogging of the visor. It is keen on discovering any adverse effects, such as humidity, of including the harder 1mm polycarbonate together with the hard-hat, Brumloop notes.
"We will beat this as a collective," says Brumloop of the large number of people who are spending their lockdown printing or manufacturing shields for valued medical personnel who may be exposed to the Coronavirus, adding that, "if you can assist, you do".
End.