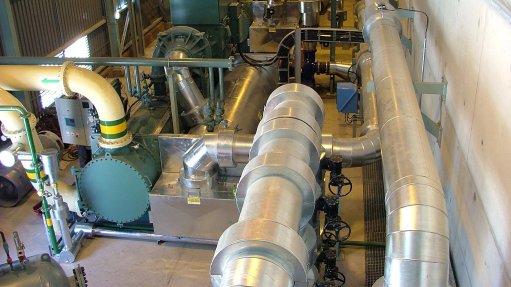 TRANSCONTINENTAL AFRICA FOCUS We're not considering entering the HVAC industry locally we are staying in our market - where people fear to tread
Consulting and engineering services business Bluhm Burton Engineering (BBE) Group's air-cooling consulting and services are crucial to its involvement in several mining projects, with construction and delivery of design and build turnkey cooling solutions to mines across the African continent.
Currently, these include diamond exploration and mining company De Beers Group's flagship Venetia diamond mine, in Limpopo; platinum group metals producer Impala Platinum's No 16 Shaft, in the North West; gold producer Newmont's Subika gold mine, in Ghana; and copper producer Palabora Copper's mine, also in Limpopo.
"Africa is probably more of a market for us than South Africa. We're getting ambitious about going further afield with our project expertise – that's where we're looking at opportunities. We're not considering entering the heating, ventilation and air conditioning locally, we are staying in our market – where people fear to tread," states BBE director Richard Gundersen.
He notes that construction at the Venetia project, which started towards the end of 2018, is expected to continue throughout 2019. BBE is building an air-cooling system for the underground mine, which will provide 12 MW of cooling and supply water to two bulk air coolers.
With the project moving underground after starting as an openpit, a service shaft and production shaft will be vital for the underground mine.
"For that, they're going to need cooling; so, that cooling will be built this year, and the surface air cooling will be commissioned for the summer of 2019," says Gundersen.
BBE has also completed work on the underground plant at Palabora Copper's mine. Gundersen states that this was done despite BBE's work on a fridge plant for Palabora Copper being delayed owing to temporary closure of the mine.
"It's the Lift II project. Lift 1 is working, which is already an underground section. The fridge plant is in Lift 1, but we're providing cooling to be able to do Lift II, which is the second part of the underground mine," says Gundersen.
BBE is also in the three phases of cooling requirements for the infrastructure work on the Impala Platinum No 16 Shaft. A refrigeration plant and air cooler were built ten years ago in Phase 1, while the second stage involved the installation of two more refrigeration machines and a second condenser cooling tower block.
Gundersen states that the third phase of production for the No 16 Shaft could start earlier than initially anticipated, with the installation of two more refrigeration machines and a third condenser cooling tower block.
Further, the Subika underground project is a significant project for BBE outside South Africa. BBE was approached by Newmont to design and implement a ventilation and cooling system for the underground mine, previously an openpit.
"We've provided an air cooler in conjunction with engineering consultants DRA Global. We supplied all the equipment and sent someone to site to supervise the installation. The bulk of the construction work was done by local contractors working at the mine under DRA and BBE guidance," states Gundersen.
Phase 1 of the project was finished last year, while Phase 2 will begin this year, after being accelerated by Newmont. During Phase 2, BBE will supply and install extra refrigeration machines and condenser cooling towers.
The company is involved in a new project for gold producer Harmony Gold at their Tshepong mine, providing a detailed engineering design for a complex underground refrigeration and air-cooling project. Other than that, Gundersen mentions a project in Mali for which a mine is progressing underground and needs additional cooling to that already provided by BBE, as well as a new client from Canada, which Gundersen is not able to provide details on at this time.
He states that vendor reliability has been a challenge during these recent projects as established and previously reliable vendors now have a generally reduced business consistency.
Dependency on overseas suppliers for mining projects in Africa is another aspect that affects the mining industry, as one or two international suppliers have not honoured their delivery dates for projects in Africa, according to Gundersen.
He highlights that, owing to the nature of BBE's turnkey consulting services, the group would benefit from staying in touch with the mining industry as refrigeration and air-cooling systems are vital for accessing remote orebodies.
"We don't make the machines, we don't make the cooling towers, or any of the system components for that matter. We design and build tailor-made ventilation and air-cooling solutions. Business opportunities arise as and when cooling needs arise.