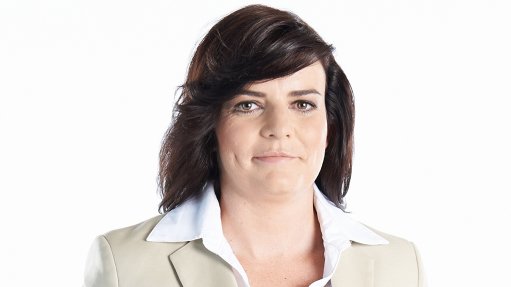 ELAINE CREWE The 2015 installment of BAUMA CONEXPO AFRICA is expecting more than 20 000 visitors from over 100 countries
Since the first international construction and mining trade fair bauma Africa 2013, the expo has grown significantly and will feature hundreds of exhibitors at this year's event, reports BAUMA CONEXPO AFRICA (BC Expo South Africa) CEO Elaine Crewe.
"We are expecting more than 20 000 visitors from over 100 countries," she says, adding that 14 700 visitors attended the 2013 event.
Crewe tells Engineering News that the 2013 event exceeded all expectations. "We were hoping to have 200 exhibitors on 20 000 m2 of exhibition space; however, when we opened the doors that September, we had 754 exhibitors who took up over 60 000 m2 of exhibition space."
Subsequently, Crewe says BC Expo South Africa decided to move BAUMA CONEXPO AFRICA 2015 to the Johannesburg Expo Centre: "This year, we will take up over 65 000 m2 of exhibition space."
The first event, bauma Africa 2013, was held at the Gallagher Convention Centre, in Midrand. As part of their cooperation on international construction machinery events, Messe München International and the Association of Equipment Manufacturers announced their intention at the event to establish a joint venture in Africa – materialising as BAUMA CONEXPO AFRICA.
BAUMA CONEXPO AFRICA's success can be attributed to the bauma and CONEXPO brands becoming exceedingly strong. "bauma, in Munich, which takes place every three years, is the largest trade fair in the world. We also host bauma China, BAUMA CONEXPO INDIA and CONEXPO-CON/AGG in the US, all of which are the leading trade fairs in their sectors," says Crewe.
She notes that exhibitors and visitors "have come to trust the high-quality organising that goes into all our trade fairs", adding that, in Africa, the instant success of bauma Africa 2013 was attributed to high-quality visitors and industry-leading exhibitors.
BAUMA CONEXPO AFRICA provides original-equipment manufacturers (OEMs) with the opportunity to showcase their diverse and comprehensive equipment ranges. In addition, Crewe highlights OEMs' ability to unveil new products and introduce future machine and technological developments to the market.
"BAUMA CONEXPO AFRICA, therefore, presents a unique opportunity to connect with a large number of existing and potential new customers over a short period," she says.
This year's event will also feature an interactive demonstration area that will enable exhibitors to showcase their latest innovations.
Meanwhile, construction industry organisation Master Builders South Africa will host its yearly conference in conjunction with BAUMA CONEXPO AFRICA 2015. A new matchmaking programme will be introduced, allowing for visitors and exhibitors to connect before the event starts.
Moreover, as part of their aim to increase Messe München International's global network, organisers will also introduce IFAT Environmental Technology Forum Africa, which will run concurrently with BAUMA CONEXPO AFRICA 2015. IFAT Environmental Technology Forum Africa, which stems from the world's leading environmental technologies trade fair brand IFAT, will focus on environmental solutions for the mining and construction industry.
Forum Launch
Crewe tells Engineering News that, because BAUMA CONEXPO AFRICA sheds light on the African industry, BC Expo South Africa is aware of the show's importance and the platform it creates. This prompted the organisers to introduce the BAUMA CONEXPO AFRICA Forum at this year's event.
The forum will present 'country specials' from several African countries, including Botswana, Ethiopia, Kenya, Mozambique, Namibia, Nigeria, South Africa and Zambia. These presentations will focus on investment projects and opportunities in these countries.
"We are very excited about the future of BAUMA CONEXPO AFRICA and, owing to the sheer size of the trade fair, we will move into a three-year cycle after the 2015 edition," Crewe says, adding that the support received over the past four years from the industry has laid an important foundation for the future success of the event.