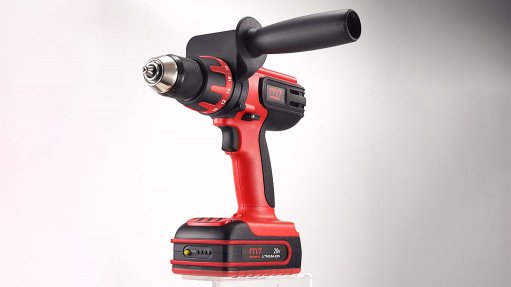 MIGHTY SEVEN CORDLESS DRILL/SCREWDRIVER The tool enables the user to adjust its settings for specified applications, allowing for optimum results to be achieved
Industrial machinery supplier Dowson and Dobson (D&D) Industrial has introduced a cordless, battery-powered tool developed by Taiwan headquartered pneumatic tools manufacturer Mighty Seven to the Southern African market.

D&D Industrial sales manager Johan van Rensburg tells Engineering News that the company has been distributing Mighty Seven machinery in Southern Africa for five years and has now added the latest cordless drill/screwdriver to that range.
"The Mighty Seven hand-held battery-powered cordless drill, which doubles as a screwdriver, makes it easier for operators in any condition to work more efficiently," he explains.
Van Rensburg says the tool is ideal for use in the construction of power lines and billboards, as well as at any construction site that often requires an operator to climb onto a ladder to drill holes or tighten screws.
He highlights that the Mighty Seven cordless drill/screwdriver is available either with an integral hammer that enables masonry drilling, or without the hammer, which subsequently makes it more suitable for regular drill work.
In addition, the tool comes standard with two 20 V lithium-ion batteries and a charger. This enables the operator to easily change the batteries, eliminating downtime, says Van Rensburg.
"The batteries are rechargeable and feature an overload protection circuit that prevents them from overloading and overheating."
Van Rensburg says the batteries boast the latest in lithium-ion battery technology, with a lead charging time of 30 minutes, which, he asserts, is far quicker than the industry standard.
The tool has a maximum drilling capacity of 13 mm in steel and 32 mm in wood, and boasts 23 torque settings, with a maximum torque of 67 Nm, which allows an operator to adjust the tool to suit the application at hand, to guarantee the best results.
Mighty Seven traditionally manufactures pneumatic tools, and Van Rensburg notes that the move to battery-powered tools is significant. He states that the introduction of battery-powered tools marks a growth of the local market, adding that cordless tools are becoming more popular as some users tend to prefer them above air tools.
D&D Industrial also provides support services for all its tools, including spares, repairs and warranties. The services are offered from D&D Industrial's Cape Town and Johannesburg branches.
About D&D
D&D Industrial was founded in 1906, in what was known then as the Cape or, currently, the Western Cape. Over the years, the company has been associated with high-quality products and excellent service.

It has offices in Johannesburg, Cape Town, Durban, Richards Bay and Port Elizabeth. Among its renowned products imported into South Africa and sold to many African markets are Band-It, Ridgid, Trion, Talbot Pipeline Products and Mighty Seven products.
The company sells its products directly to customers throughout Africa and through its distributors in Swaziland, Lesotho, Zimbabwe, Botswana, Nigeria, Angola, Mauritius, the Democratic Republic of Congo, besides others.