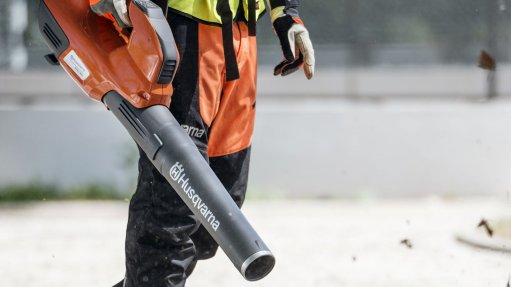 NEIGHBOURHOOD FRIENDLY Battery-driven power tools offer more efficiency and reduce maintenance cost
Outdoor power product manufacturer Husqvarna's 36 V lithium-ion battery- powered equipment provides long- lasting power and greater economical value than petrol-powered alternatives, says Husqvarna South Africa product support general manager Bronson Gunter.
The high-performance battery can be used interchangeably on all battery products within the range and a completely discharged battery takes approximately 35 minutes to charge to 80% and 50 minutes to charge to 100%, he notes.
Husqvarna's range of battery-powered products, which includes chainsaws, top handle saws, grass trimmers, brushcutters, hedge trimmers, pole pruners and leaf blowers, provide up to ten operating hours of run time between charging when used with the company's BLi520X and BLi940X backpack batteries.
The unique features underpinning the Husqvarna battery series is that it can recharge at any time, does not affect the memory of the machine as users can recharge at any time, even partly empty batteries.
Further, intelligent discharge management of the battery series protects the machine from deep discharge and ensures extra-long lifetime, while a push button charge status indicator on the side of the battery instantly indicates the reading of the current state of charge.
Gunter points out that using battery power reduces operational costs, as there is no need to fill a tank with petrol, and it is also environment friendly, since the chainsaws do not emit carbon dioxide. Husqvarna's battery-powered machines also maintain high power and consistent torque to match that of their petrol alternatives.
"The initial cost investment of a battery- driven machine might be higher than a petrol-fuelled equivalent, but the long-term savings outweigh the initial cost," he states.
Gunter explains that the life span of a battery-driven product might be higher than the petrol-fuelled equivalent, owing to a fewer parts requiring servicing and, coupled with an electronically-controlled drive system, there being less downtime and lower operational costs involved with battery-powered tools.
Husqvarna's BLi150 battery can last as long as one tank of petrol depending on the task being performed.
Gunter also highlights the benefit of working with power products that produce such low noise levels. The result is being able to work in noise-sensitive areas, such as schools, office parks and hospitals; and for longer working hours.
The company also offers a petrol- powered range of efficient chainsaws that feature X-TORQ motors, thus, reducing exhaust emissions up to 20% in accordance with the world's most stringent environmental regulations.