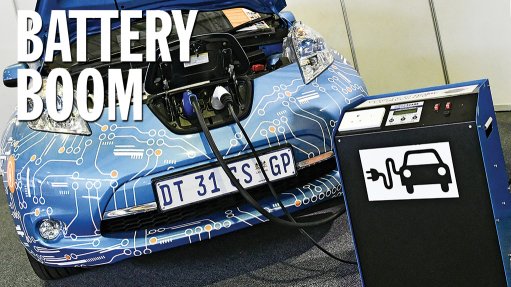 Battery metals, which are used in modern energy efficient electrical products, are playing an increasingly important role in climate change mitigation and the shift towards a lower carbon-intensive future.
Battery metals, including lithium, vanadium, copper, cobalt, nickel, lead and graphite, are increasingly used in larger-scale battery storage products and in components used to transmit and distribute electricity.
Two key factors in the green energy transition are technology development and the roll-out of renewable-energy solutions, energy storage devices and electric vehicles (EVs), with solar- and wind-derived electricity generation the frontrunners in terms of green energy production.
In terms of EVs, the focus is on electric-only EV development and roll-out, with the focus having shifted from the now decade-old hybrid concept comprising a conventional internal combustion engine, electric drive powertrain and battery pack.
Precious metals and resource sector analyst company Swiss Resource Capital founder and CEO Jochen Staiger says electric mobility is increasing and in 2020 the eagerly awaited new models of German manufacturers and other international volume manufacturers will finally be coming onto the market.
He says that as the charge ranges of EVs increases, so too will the acceptance of the end-customers – the car buyers. Staiger highlights that Tesla has produced more than 100 000 cars in three months, while Volkswagen wants to focus exclusively on EVs. "Volkswagen . . . is planning [to have about] 70 models by 2030 in the e-sector, as are Mercedes, Audi and BMW."
He states that the EV is now established and has won a place among buyers, evidenced by the more than eight-million EVs on the road worldwide at the end of 2019. "By the end of 2020, we should be able to break the ten-million mark despite Covid-19 madness."
The progression of the EV will also shift development away from the concept car and towards the mass production of EVs for daily use. "All these will be enormous drivers of the demand for lithium, cobalt, nickel and vanadium, but above all copper." Staiger adds that, in general, copper is being used as a recession barometer on the futures exchanges stock marketplace.
Further, according to the German government, another 30 000 charging points are to be added to their national network by 2030. He says this means millions of tons of copper, which are needed not only for EVs, but also for the charging infrastructure. Therefore, 2020 should be a decade for commodities, as they are, and will remain, the basis of economic activities, he notes.
According to Swiss Resource Capital's 'Battery Metals Report 2020', the supply of EVs will hardly keep pace with demand once Covid-19 has been overcome.
The report finds that major-economy countries plan to end the sale of petrol- and diesel-powered vehicles within 10 to 20 years. Within ten years, Germany, Israel and India plan to end all new sales of such vehicles; while the Netherlands, Norway and Sweden are aiming to ban them by 2035. By 2040, the UK, France and Ireland plan to end sales of such vehicles.
Swiss Resource Capital also reiterates that the 2020s will be milestone years for EVs and hybrids, with major original-equipment manufacturers changing production to be more in line with EV production. Volvo, for example, is planning to convert 100% of its production to that of EVs and hybrids by 2022, with a total of 500 000 vehicles targeted for production that year, while Toyota plans to build 50% of its production with EVs by 2030. Tesla is aiming for one-million EVs to be produced this year.
Overall, the leading car manufacturers plan to produce more than 20-million EVs a year from 2025. From 2030, 25-million electrically powered vehicles a year can be expected, and from 2040, this figure will rise to 60-million vehicles a year.
Further, the expectation of this increase in EV demand and use is echoed by business intelligence company CRU UK cobalt, lithium and battery markets senior analyst George Heppel, who says that although demand for battery metals, including cobalt, lithium and copper, is subdued because of Covid-19, demand will remain strong as a result of growth in EV markets.
There was much concern about the future of the e-mobility transition when Covid-19 first struck, as questions were raised in the EV industry about whether demand would be slowed or remain steady, he explains.
However, Heppel points out that although the automotive market has been severely affected by Covid-19, the EV sector has actually had a few good months. First-quarter sales of 2020 in Europe – a big growth engine of EVs, even before Covid-19 struck – were the highest on record, "despite a lot of major economies in Europe being under lockdown for the majority of March", he highlights.
In April, the European automotive sector was down 78% year-on-year. However, demand for plug-in EVs was only 16% down year-on-year. "This is astonishing when you consider that a lot of people would not have been able to leave their house, let alone visit dealerships to buy cars," states Heppel.
"Obviously, a lot of this is owing to pent-up demand and deliveries from Tesla and the like," he said. However, not all the demand can be attributed to pent-up demand and increased EV deliveries, with a significant portion of demand going to subsidy policies.
Large Batteries
Swiss Resource Capital highlights that decentralised storage facilities will dominate the market in the future, with a keen eye on vanadium redox batteries.
According to its report, this type of battery is better suited to use in the renewable-energy sector, as opposed to the use of lithium, cobalt and nickel in lithium-ion batteries or accumulators in smaller applications such as automotive or personal electronic products.
The "virtually explosive" expansion of energy generation from wind farms and solar photovoltaic has, however, presented a significant challenge for power grids, as renewable-energy sources often produce extreme fluctuations in power generation, depending on the availability of sun and wind.
Swiss Resource Capital says this results in an oversupply of electricity in the short term, with up to 20% of the yearly wind power yield being lost as a result of turbines having to be shut down at short notice, owing to grid overload.
This can be remedied by storage facilities that initially absorb the surplus energy and later release it back into the grid when needed.
Swiss Resource Capital posits that the vanadium redox accumulator, in particular, plays a decisive role in this regard, as it has a higher operational reliability than the lithium-ion battery.
The vanadium redox accumulator is a so-called flux accumulator, which uses vanadium compounds in aqueous solutions in both electrolytes. Vanadium redox flow cells offer a very high degree of operational safety, compared with other storage systems, as the electrolyte is neither flammable nor explosive, owing to its high water content.
The commercial batteries currently available are used exclusively for stationary applications, such as regenerative energy sources to cover peak loads and load balancing, as well as for uninterruptible power supplies.
By the end of 2019, Swiss Resource Capital reports that more than 80 large vanadium redox flow batteries were in operation worldwide.
The largest vanadium redox flow battery, with a capacity of 2 MW and 20 MW/h energy storage capacity, was completed in September 2019 in Baden-Württemberg, in Germany.
The largest battery in the world, still under development, will also be a vanadium redox flow battery, with a capacity of 200 MW and an energy storage capacity of 800 MW/h, in north-east China.
The largest future application area for vanadium redox batteries is decentralised energy storage and smart grid systems requiring a large number of short- and medium-term energy storage devices that can absorb surplus energy and later, when there is no wind or sun, release it back into the grid, according to Swiss Resource Capital.
"Vanadium redox batteries can clearly provide a remedy here by temporarily storing the over-generated energy and releasing it back into the grid only when needed."
The company notes that many manufacturers are trying out efficient vanadium redox batteries, which are to be used primarily on a decentralised basis, such as directly in households that use a photovoltaic system on their roof or near wind farms.
The 2020s will thus be a landmark decade for battery development, renewable energy integration with storage systems and a decade in which EVs and hybrids gain significant traction in the market.