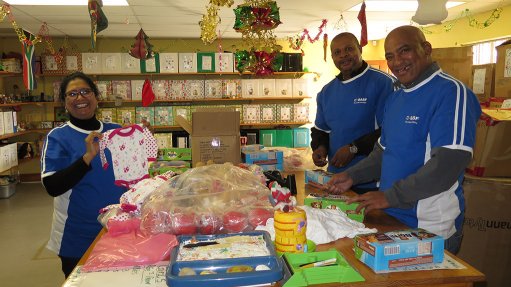 Employees at BASF, the world's leading chemical company, are strongly supported by the company's ethos of giving back to the community in which the company operates. Employee volunteering, coupled with BASF South Africa's Corporate Social Responsibility programme, is an integral component of the business of BASF Port Elizabeth's Mobile Emissions Catalysts site.
The annual International Mandela Day initiative sees staff volunteering their 67 minutes of service for the upliftment of the local community. For the fifth consecutive year, a BASF team of 13 volunteers participated in a programme hosted by the Missionvale Care Center - which is also a beneficiary of an annual donation through the Corporate Social Responsibility programme of BASF South Africa. This year the team volunteered their 67 minutes in 'Santa's Workshop' and wrapped Christmas presents for the over 6 000 vulnerable children in the Missionvale area who receive gifts at the Center's annual Christmas Party.
According to Site Director, Paul Allday, giving back to the community is one of the fundamental responsibilities of all corporate citizens. "Contributions to support the community in which we do business do not only have to be of a monetary nature, but can include social awareness and upliftment programmes that all staff can get involved in at any level," he said.