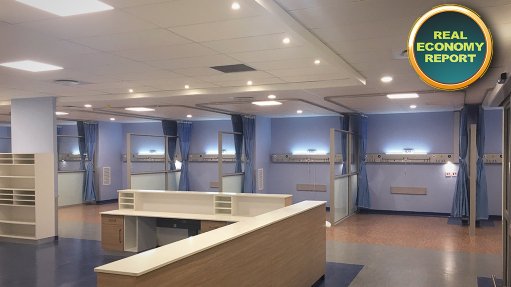 Sashnee Moodley:
From Creamer Media in Johannesburg, this is the Real Economy Report.
With the surge in hospital admissions brought about by the global Covid-19 pandemic, the Gauteng departments of Health and Infrastructure Development embarked on a project to increase its ICU capacity through a national refurbishment and additional build programme. Enza Construction was commissioned to complete the design and construction of the new Bara500 Covid-19 facility. Creamer Media contributing editor Donna Slater tells us more.
Donna Slater:
Enza Construction was awarded the accelerated tender to build the 500 bed ICU hospital in grounds adjacent to the Chris Hani Baragwanath Hospital in Soweto.
Having completed the hospital within six months, Enza Construction executive director Clinton Crowie tells us about how the project came about and the tender process.
Enza Construction executive director Clinton Crowie:
Donna Slater:
The Bara500 hospital is set to take over from the Nasrec field hospital which is presently being dismantled and moved to the Bara500 hospital.
The construction of the hospital presented some challenges, needing to be planned and undertaken during South Africa's first wave of the disease.
Crowie details the phased approach taken.
Enza Construction executive director Clinton Crowie:
Sashnee Moodley:
That's Creamer Media's Real Economy Report. Join us again next week for more news and insight into South Africa's real economy. Don't forget to listen to the audio version of our Engineering News daily email newsletter.