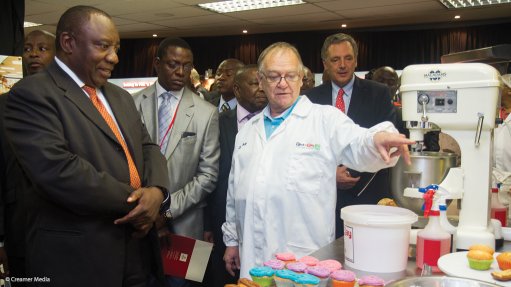 Photo by: Duane Daws
Deputy President Cyril Ramaphosa last week chaired a Human Resources Development Council (HRDC) meeting at the Pick n Pay regional offices in Johannesburg, where it was revealed that baker was the third scarcest occupation in South Africa.
Pick n Pay hosted Ramaphosa, Higher Education and Training Minister Blade Nzimande and various HRDC members for a closed session of the council. They were also introduced to bakers participating in the retailer's training programme.
Pick n Pay senior learning and development manager Lance Knowling revealed that baker was listed as a trade and recognised as an artisan skill and that it was the third scarcest skill after retail manager and sales manager.
The wholesale and retail sector contributed 12.5% of the country's gross domestic product and 3.1-million people worked in the industry.
Pick n Pay has invested more than R10-million on bakery training this year.
Ramaphosa thanked the retailer for exposing young and unemployed people to training in baking and added that bakers filled a critical skill in the country.
"We commend companies such as Pick n Pay for investing and developing the skills and capabilities of South Africans. These visits demonstrate the progress we have made in various sectors. It is impressive to see companies executing their own commitment to developing the skills of people," he said.
He added that attention needed to be paid to basic and secondary education, as well as higher education, vocational training and adult education.
He explained that the HRDC was charged with activating and implementing the human resources strategy to skill South Africans to ensure that they contributed to the economy.
He said the HRDC was the "brains trust" to enable South Africa to be skilled.
"We have a recipe before us in the form of the National Development Plan but the ingredients are sitting in government, the private sector and communities and they reside in the hopes of young people waiting to be trained, skilled and developed," Ramaphosa said.
Pick n Pay group chairperson Gareth Ackerman said the retail and fast food industries provided entry-level jobs in South Africa and that was where people gained working experience.
He noted, however, that absenteeism was a concern in the retail industry and added that the problem was not creating jobs, but to get people to respect their jobs.
It was also important, he said, to get small retailers to build and develop businesses as it would save government and the retail industry money and create more jobs.