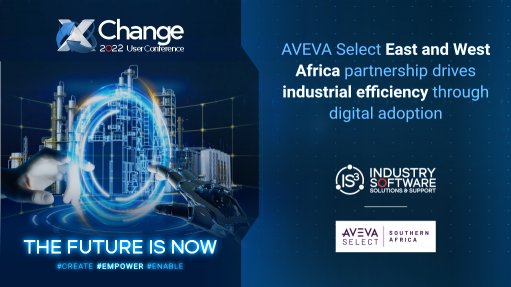 Industrial software companies Aveva and Digital Industries will invest in and formalise their presence in East and West African markets with the purpose of ensuring that industrial companies, and countries, are competitive, efficient and effective by supporting their digital adoption journeys, said Digital Industries CEO and Industrial Software Solutions and Support MD Dion Govender.
"[Aveva] feels we can help companies, industries, communities and countries make advances towards efficiency and sustainability, which is enabled by digital technology," said Aveva Europe, Middle East and Africa senior VP Evgeny Fedotov.
Key for the companies' approach to the industries in these markets is to create indigenous knowledge and skills. Training will be provided online, but the companies will also invest in establishing training centres and demonstration centres within countries to equip system integrators, partner companies and end-users with skills to enable them to use the solutions and to articulate the relevance of industrial software and the service offerings available to their customer base, said Govender.
"The task [to help industries become more sustainable and efficient] is enormous, and not limited to some companies or countries. Therefore, we have to build an effective mechanism to collectively enable industry and sector communities to work together," Fedotov added.
"The industrial world, over the past few years, has started rapidly transforming. There seems to be a critical mass of different technologies that can be combined to multiplicative effect, which we see as enabling a real revolution in the industrial world," he said.
Additionally, the majority of assets have been built and there is an important role technology must play in ensuring companies and governments can get the most out of these assets.
"Given that the investments have been made in these assets, such as factories, rail and power infrastructure, technology needs to ensure that industrial assets continue delivering value, and potentially greater value, safely and efficiently for longer," Fedotov said.
The most important component to enable safe longer-term use of ageing infrastructure is predictive analytics to ensure assets can be run competitively for longer, which is one of the key capabilities the companies can provide for industries, concurred Govender.
Further, Aveva's and Digital Industries' joint strategic approach requires investment into the local ecosystem, and these territories have lots of mature industries and information technology services, but not much industrial technologies, he said.
"Digital Industries has a long relationship with Aveva as its Southern African partner. We have made investments, for example in Ghana and Nigeria, according to the simple model of following our Southern African customers into these markets. We have a presence in 33 countries in Africa, but we will formalise our presence through targeted investments," he said.
As industries adopt digital technologies to enable their digital transformation, the pace of industry digital transformation in Africa is expected to be faster than in developed countries owing to the proven capabilities of digital technologies, and the need is greater in Africa for industries to improve their sustainability, efficiency and competitiveness, Govender said.
"The experiences of the industrialisation and development in Asia Pacific countries are what Africa should aim for," he recommended.
Aveva is looking for flagship companies to engage and partner with, which will help to form ecosystems in countries and possibly influence their supplier, service provider and partner companies to adopt digital technologies to align their processes with demands from flagship companies and market pressures, said Fedotov.
"We also hope and expect that government institutions will also pick up on these ideas, especially once seeing that these digital industrial technologies improve the lives of people and the performance of businesses," he added.
Such digital champion companies often have ambitious goals that technology providers must support and enable. Aveva wants to work with such companies that typically adopt "fail fast, fail forward" methodologies of innovation.
"This is similar to the process by which Asian countries accelerated their industrialisation and development. When it comes to Africa, it is exactly companies and countries that pursue such bold ambitions and visions that are most likely to prosper," said Fedotov.
Digital Industries' role in supporting African industrial companies is to leverage its presence and experience in Africa to support Aveva's broader purpose of creating an enabling environment for industries to change, develop and grow using technology and Digital Industries' skills and training on the ground, said Govender.
"There is a lot to be done, and we are ready. Many of our customers know what they need and we need to create an enabling environment for them to pursue their digital transformation journeys.
"We also keenly understand that we have to create and drive value for our customers to ensure that we fulfil our purpose of supporting long-term industrial efficiency and sustainability," said Govender.