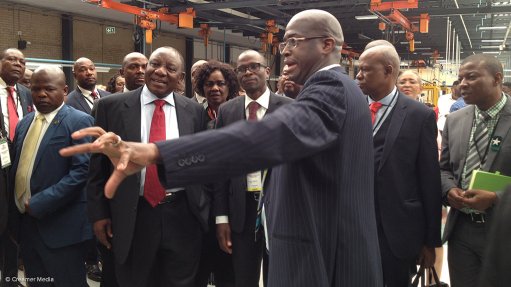 Deputy President Cyril Ramaphosa
Photo by: Dylan Slater
The Automotive Industry Development Centre (AIDC) is essential to bridging the human resource development challenge in South Africa and the growth of an effective, competitive and sustainable industry, says Deputy President and permanent Human Resource Development Council of South Africa (HRDC) chairperson Cyril Ramaphosa.
Speaking at a meeting organised by the (HRDC), on Friday, he noted that an institution like the AIDC was essential to extending the "frontiers of learning" and getting to know what is done in the various manufacturing sectors. "It inspires us . . . showing that the Gauteng government is deeply involved in the training of young people."
The event was held at the AIDC's Rosslyn-based automotive learning centre, where Ramaphosa undertook a walking tour of the facility to gain insight into the processes in which automotive artisans are trained in the automotive industry hotspot of Rosslyn.
Ramaphosa said the AIDC centre was building the "skills for tomorrow's economy", noting that although the South African market was small, the domestic industry had developed great capabilities to work to a standard as good as global original-equipment manufacturers (OEMs). This enabled South Africa to export a number of vehicle models to overseas markets.
In terms of importing, Ramaphosa also highlighted the need for South Africa to desist from importing finished goods from other countries, as this only served to bolster other countries' economies.
AIDC CEO Dr David Masondo added that although the Gauteng province was home to the manufacturing plants of four major OEMs, namely Nissan, Ford, Tata and BMW, the AIDC was not highly focused on large infrastructure, but instead focused on the enhancement and empowerment of local automotive component manufacturers.
The AIDC owns and operates a supplier park in Rosslyn, where local components manufacturers who supply parts to OEMs are based. "The barriers to entry to [supply the] market are high – you need skills and funding", said Masondo.
He explained that the AIDC was assisting suppliers through its established incubation centre in Winterveld, in Gauteng.
The incubation centre assists entrepreneurs with the necessary skills and infrastructure to help them achieve the high production standards of major overseas OEMs.
The AIDC is also introducing a new trade test centre, near Rosslyn, which will be used to test and certify artisans' knowledge and skills and to officially recognise them.
This trade test centre will certify auto-electricians, mechanics and autobody repairers.