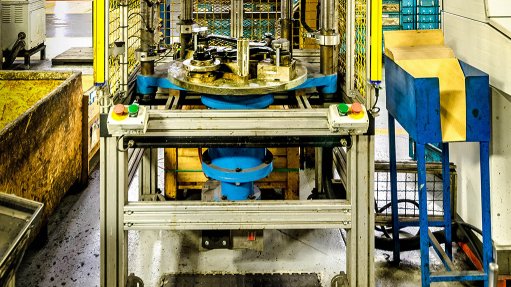 THE SERVO-DRIVEN AUTOMOTIVE PRESS The servo-driven automotive press produces one part every 40 seconds for 22 hours a day
A servo-driven automotive press for automotive components integrated provider Auto Industrial (AI) has been designed, manufactured and commissioned by pneumatic, electric and mechanical drive technology specialist Tectra Automation.
The application- specific automotive press is used by AI to assemble various front suspension linkages for a local range of light commercial vehicles in such a way that it produces one part every 40 seconds for 22 hours a day.
Tectra Automation was responsible for every aspect of the automotive press, aside from the tooling, which was manufactured in-house by the client. To facilitate the production of one part every 40 seconds, drive and control technologies specialist Rexroth's Rexroth L25 motion programmable logic controller was used with control provided by a Rexroth VEP40 HMIK with an on-board personal computer. Tectra Automation designed and manufactured the control panel as well as the operation software. The Rexroth EMC-125-HD electromechanical cylinder, driven by an MSK101D servo motor, was selected for control instead of using a hydraulic cylinder, owing to its cleanliness, high degree of controllability and operational quietness.
"The press has an integrated load cell to control and record the press-in force to guarantee consistent quality," explains Tectra Automation GM Kevin Lombard.
He notes that the ram is guided by Rexroth heavy-duty linear bushes running on hardened and ground linear shafts. The rotary table is driven by a Rexroth MSK050C servo motor driving a GTM planetary in-line gearbox. By using various sensors, the program will alert a supervisor in the event of an operator error. Any parts not conforming to the required press-in-force specification will require intervention to ensure that no rejects pass through the system.
The automotive press' mechanical structure was subcontracted to longstanding Tectra Automation customer Machine Tool Promotions and assembled on its premises. Final assembly and testing took place at Tectra Automation's facility and the press was subsequently delivered to the client. Project duration was only four months and commissioning took place on site over a fortnight. The first week of operation was dedicated to on-the-job operator training and technical training for maintenance and supervisory staff was conducted simultaneously.
"We kept AI constantly informed of the project status and liaised with them regarding proposed changes and additional features. "They appreciated this professional approach and we were subsequently commissioned to engineer a customised wheel stud press for another of their local automotive clients," Lombard comments.
Tectra Automation is also a member of fluid power and automation specialists, the Hytec Group.