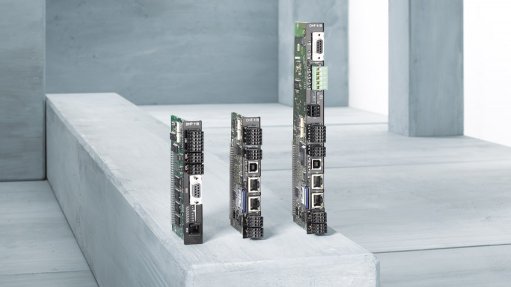 MOVING TECHNOLOGY Incorporating the freely programmable MOVI-PLC into the HandlingKinematics solution allows for greater flexibility
Drive engineering and automation company SEW-Eurodrive has supplied its highly configurable HandlingKinematics to a local original-equipment manufacturer (OEM) of concrete brick, block and paving machinery for use in a greenfield plant in East London, in the Eastern Cape. SEW-Eurodrive Maxolution engineer Dylan Enslin explains that HandlingKinematics is a pick-and-place solution that is essential for bricks or concrete blocks to be palletised in cube-sized packages for easy transport.
He explains that bricks or blocks are manufactured, compacted on a vibrating screen, placed on steel or wooden boards and stacked in a curing chamber for three days, during which time a high humidity is maintained to crystallise the cement.
Thereafter, a de-stacker feeds the boards onto a conveyor belt, which is where the pick-and-place application is used.
"Cutting down on even one second from this process can translate into a massive increase in the daily production rate," he claims.
Picking Configurations
The actual pick-and-place machine, which is robotic, is not supplied by SEW-Eurodrive as an off-the-shelf unit. Instead, SEW-Eurodrive supplies the HandlingKinematics solution, which is a retrofit kit that includes geared motors, cables, inverters, variable-speed drives and the software.
The pick-and-place machine is based on kinematics, which is a mathematical model used to control and coordinate multiple axes.
The machine developed by the OEM is an automated gantry system, with an upper-level controller to send the relevant coordinate date. The distance involved during the pick-and-place process is about 4 m, with a 2 m to 3 m lift. The rotation and clamping of the gripper is controlled by a combination of pneumatics and servomotors.
The HandlingKinematics solution from SEW-Eurodrive allows for machine control at a higher level through a lower-level configurable control unit (CCU) to carry out precision path movements.
"During startup, all the end-user is required to do is enter the relevant mechanical data for the initial configuration of the motion parameters," Enslin explains.
During production, the trajectory positions that are necessary for beginning the movement are transferred to the CCU, which coordinates the path movement in real time. It also allows for 'wait' points to be defined in the trajectory.
"The system is flexible so that, during palletising and stacking, the target position can be adapted immediately during the run-time by the CCU, without higher-level controller intervention," Enslin says.
Incorporating the freely programmable MOVI-PLC into the HandlingKinematics solution allows for greater flexibility, providing the same functionality, but with completely repeatable configuration.
While the hardware is the same, the only extra element required is a different memory card for the programmable MultiMotion software, which ensures greater consistency.
The MOVI-PLC motion controller provides drive functionality that matches the specific application. It can be used whenever intelligent drive solutions are required, for example, when several drives have to perfectly interact.
The various fields of application and mounting positions of the MOVI-PLC offer a versatile control topology for any requirement.
Motion control with MOVI-PLC offers three options for functional solutions.
The first functional solution is function blocks, which allow for versatile combinations and flexible use. Direct access to blocks, which are clearly arranged in libraries according to their functions and inverter type, allow for certain drive functions to provide the highest level of flexibility.
Secondly, program modules can be optimally combined for efficient use. The program modules comprise bundled, comprehensive drive functions. These can be simple functions such as positioning, referencing or speed control, technology functions for controlling a cam or synchronous operation, or even functions for multi-axis interpolations of kinematics.
Enslin explains that, once these program modules have been integrated, the user merely has to program the most important processes for their application. The program modules provide the entire drive functionality through one interface.
Thirdly, the MOVI-PLC also provides a library with function blocks, with suitable drive functions for each type of inverter, to allow for efficient programming. The libraries comprise functions such as enabling the drive, presetting the speed, positioning, referencing and reading or writing parameters.
In addition, there are libraries for technology functions such as synchronous operation, cam, virtual master axis and cam control. These function modules can be combined to create individual, tailor-made solutions.
SEW-Eurodrive has been working intensively with the concrete brick, block and paving machinery OEM client for about two years to refine its latest upgraded equipment.
"A specific recommendation, for example, was to use a combination of high-flex and standard cabling, as the cabling is subjected to a lot of bending. This saves costs and increases the durability of the system," Enslin notes.
He adds that factors, such as the motor mountings, had to be taken into account because the oil levels had to be correct and all the necessary oil seals had to be in place.