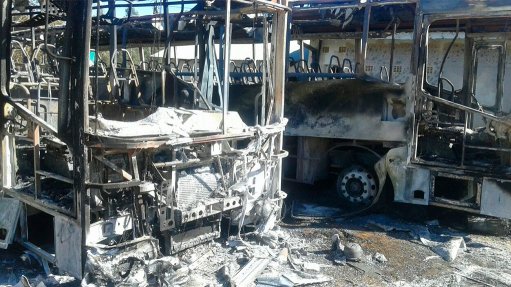 The events that dominated the headlines in July in South Africa cost the local automotive industry well over R3-billion, says Naamsa | The Automotive Business Council CEO Mikel Mabasa.
These include looting and civil unrest in Kwazulu-Natal and certain parts of Gauteng, a cyberattack on Transnet port operations that curtailed vehicle export and import operations, as well as Alert Level 4 Covid-19 lockdown restrictions that lasted for more than five weeks.
Mabasa says the R3-billion July tally includes physical damages to assets and property, lost sales orders, as well as the cancellation of new developments.
One vehicle importer, which Mabasa cannot name, placed a R180-million development on hold.
Potential employment losses at affected dealerships number 181 jobs, notes Mabasa.
He says that July's events had "curtailed the good progress" the automotive industry had seen in the first six months of the year as it worked to rebound from the effects of the Covid-19 pandemic.
New-vehicle exports from South Africa dropped by 33.1% in July, compared with the same month last year, to 16 931 units.
New-vehicle sales eked out some growth, inching up 1.7%, to 32 949 units.
New passenger-car sales increased by 9.1%, to 20 575 units. The car rental industry accounted for 11.9% of car sales in July.
The sale of new bakkies, vans and taxis declined by 8.1%, to 10 266 units.
Medium-truck sales contracted by 16.1%, reaching 587 units, while heavy-truck and bus sales declined by 9.7%, to 1 521 units.
Mabasa is hopeful that the remainder of the year will deliver some good news.
"South Africans once again showed their goodwill and social solidarity during these challenging times.
"With calm returning to KwaZulu-Natal and Gauteng, the country moving to adjusted Alert Level 3 lockdown restrictions and the accelerated roll out of the vaccinations, the gradual recovery in the new-vehicle market is anticipated to continue for the remainder of the year."
Vehicle exports and imports, as well as vehicle production and the delivery of automotive components may, however, take some time to normalise, he adds.
"It is always unfortunate that these mindless actions, which lasted only a few days, could potentially affect the image of an industry as a reliable manufacturer and supplier of quality vehicles and automotive components to world markets, which took several decades to establish."