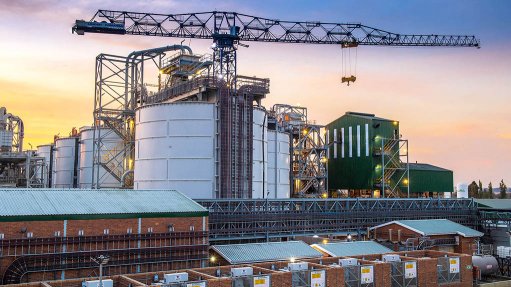 Elikhulu tailings retreatment plant at Evander, in Mpumalanga.
Photo by: Pan African Resources
JOHANNESBURG (miningweekly.com) – The authorities have been laudably supportive of the R150-million grid-tied photovoltaic solar project that is to be built to supply electricity to Pan African Resources' highly successful Elikhulu tailings retreatment plant in Evander, Mpumalanga.
The nigh-10 MW solar plant, which is expected to be completed next year, will provide most of the daytime electricity requirements (about 30% of its total requirements) of the R1.79-billion Elikhulu operation, one of South Africa's lowest-cost gold-from-tailings plants.
Being targeted is a de-risked, self-generation solar plant equipped with controllers that will prioritise the solar energy when it is available and revert back to the grid when it is not, to fulfil the power requirements on a sustainable, constant-wattage and continuous electricity delivery basis.
The 12-year-life Elikhulu produced close to 60 000 oz in the 12 months to June 30, at the very low all-in sustaining cost of $660/oz.
The solar project's timeline will, not in any set order, be determined by permission being granted by State electricity utility Eskom and the National Electricity Regulator of South Africa (Nersa), as well as commercial agreements being concluded.
"One of the things we've been quite successful with up to now has been the adoption of an approach of working very closely with Eskom and Nersa, as well as the Department of Mineral Resources and Energy and local stakeholders," M Squared Resources director Kobus Breytenbach told Mining Weekly in a Zoom interview. M Squared Resources is serving as project coordinator.
"We've been speaking to Eskom very regularly. We started engaging with Nersa long before we were required to, and it's been very successful up to now. Accelerating the timeline has been, I think, the value that we can add, while working with a whole suite of consultants. We're hopeful that we'll be able to get this through in a very, very short period," Breytenbach added.
To accelerate the solar project's timeline, certain project development aspects are being conducted in parallel.
"The authorities have really been going out of their way to support this project and we hope to be operational in the third quarter of next year. The fact that the plant is on the urban edge and on previously disturbed land made a big difference," Breytenbach added.
The solar plant will be built on a site that once housed a mine hostel. Of four sites evaluated, this site was chosen as it qualified for an environmental impact assessment (EIA) waiver. The EIA waiver, granted by the Department of Agriculture, Rural Development, Land and Environmental Affairs, restricts the solar plant's output to being below 10 MW, in this case at 9.975 MW alternating current. It also stipulates that it occupies an area that is no bigger than 25 ha, translating into 2.5 ha per megawatt.
BUILD, OWN AND OPERATE MODEL
A build, own and operate model, using an engineering procurement and construction (EPC) contractor, is the chosen approach of dual London- and Johannesburg-listed Pan African Resources. The company also has an American Depository Receipt programme sponsored by the Bank of New York Mellon.
Envisaged is that the same EPC contractor, or potentially a different party, will operate the plant for one year, during which time skills will be transferred to Pan African Resources' employees, who will then run the plant to the full extent possible.
The names of the various contactors that M Squared Resources have been working with will be released once all contract awards have been concluded, at which point it will be made known whether a monocrystalline or polycrystalline solar solution will be used.
"Solar is becoming very competitive. If you look at the renewables programme, there has been an exponential decrease in terms of cost per kilowatt or megawatt. The reliability is there, which helps, and it is modular, which is great.
"If planning is good enough, solar facilities can be built up on a modular basis, and then with battery technology increasing and becoming more economical, expensive morning and afternoon demand peaks can be eliminated," Breytenbach said.
Elikhulu has access to 183-million tonnes of tailings that have accumulated over Evander's 70-year gold mining history and it is playing a positive environmental role by re-mining the legacy dump sites of their mine waste and freeing the land beneath the waste for alternative usage.
The Evander tailings storage facilities (TSFs) being reclaimed are the Kinross, Leslie-Bracken and Winkelhaak TSFs, in that order. Once processed, these TSFs will be consolidated into one, shrinking Evander Mines' environmental footprint substantially. The average gold content of the material being processed is 0.3 g/t, ranging from 0.28 g/t to 0.30 g/t.
The solar plant represents the first phase of solar power generation at Evander. Pan African Resources may consider looking to expand this power facility to a possible 25 MVA for Evander's Egoli underground gold mine project that was recently announced. A similar solar plant is also being considered at Pan African Resources' Barberton Mines, in Mpumalanga.