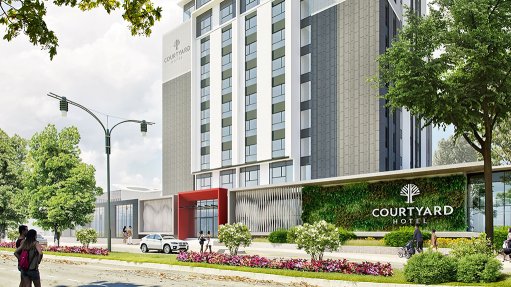 Attacq's Courtyard Hotel, in Waterfall City
JSE-listed real estate investment trust Attacq has received a Green Building Council South Africa 4-star green rating for its recently launched Courtyard Hotel, in Waterfall City.
The certification makes Courtyard Hotel the first hotel, and the twenty-first building, within the Midrand-based precinct to be recognised for its sustainability and green design.
The 4-star green certification is internationally acclaimed and provides a measurement for green buildings, while rewarding environmental leadership within the property sector.
The Courtyard Hotel was opened in March, with the first phase of development including commercial spaces, four suites and 84 bedrooms. A further 80 rooms will be added in subsequent phases, in line with demand.
The hotel was built with environment-friendly principles in mind, including efficient water and electrical designs, intelligent metering systems and software to consolidate data displayed on screens – these screens have been placed within the hotel foyer to ensure ongoing education and awareness for guests and staff.
Attacq chief development officer Giles Pendleton says smart, green designs are at the core of all the company's developments, particularly within the Waterfall precinct, and it is encouraging that the team's dedication and hard work is being continuously recognised.
"At Attacq, we believe buildings are an integral part of our communities; therefore, they should be built in a sustainable way for the people and environment at large. This accolade brings us one step closer to becoming a world-class green city."