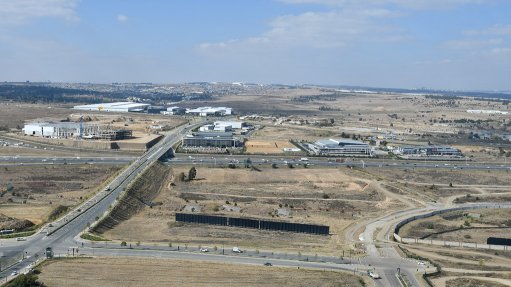 Construction and development of JSE-listed Attacq's Waterfall City is ongoing, with new infrastructure including roads, residential properties and warehouses continuously in the pipeline.
During a tour of the Waterfall City precinct on Wednesday, head of development Giles Pendleton said the last quarter had been robust, and that the company received a number of corporate enquiries ranging from tenants wanting between 3 000 m2 and 50 000 m2 of letting space.
"We are also leveraging off the continued expansion of the residential sector of Waterfall City between property developers Baldwin and Century, which are continuing to build and develop the area," he said.
He pointed out that notable current developments at Waterfall City included the 42 000 m2 Deloitte head office development that will open in April 2020 and accommodate 3 500 staff members.
"We will also break ground in a few weeks' time on a development called The Ingress, which is owned by a private wealth company, and we are looking at our first residential product, which will be launched in the fourth quarter," he said, adding that the continuous construction roll-out has been positive for the company.
Acting Attacq CEO Melt Hamman noted that Cummins was busy building its distribution centre on the eastern side of Waterfall City, which was due for completion at the end of this year.
"Corporates and blue-chip companies alike want to move to Waterfall City mainly for its location. It is easily accessible from the N1 using Allendale road and it's a secure environment," he said.
He further highlighted that, from a location point of view, Waterfall was between Johannesburg, Sandton and Pretoria, adding to its accessibility.
INFRASTRUCTURE
Pendleton noted that infrastructure was what "makes the city work . . . we've spent a lot of money creating roads, pipes and cables, and we are now into the second infrastructure phase of the city, whereby we will develop arterial road networks," he said.
The company is partially funding the K60, which is the part of the provincial roll out of roads.
Speaking to Engineering News Online, Attacq head of sustainability and infrastructure Werner Mulder said Attacq was working with Gauteng province to upgrade the road.
"The K60 will have eight lanes, with four lanes in each direction, with a dedicated bus lane. It will also require two bridges to be constructed, one for each carriageway across the N1, and will be a significant east/west connection," he noted.
REIT LISTING
The company, meanwhile, listed on the JSE as a real estate investment trust (Reit) at the beginning of June.
"Our Reit conversion finalises our shift in focus from providing only capital growth to a focus on total return, comprising sustainable income distributions, as well as capital growth. We believe this strategy is a natural step given the progression in our business since listing in 2013," Hamman said.
He added that there were significant tax benefits to the listing and that the Reit paid distributions twice a year, which was beneficial to investors.
"We believe Attacq will attract a broader investor base by converting to the widely understood Reit structure and by distributing earnings bi-annually."
Attacq is targeting a maiden dividend payment of 73c a share, payable in October, for the financial year ended June 30.