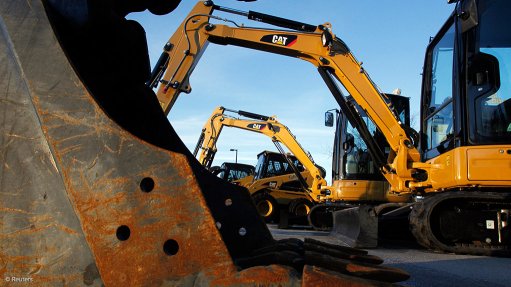 DIFFICULT TIMES Construction and Mining Equipment Suppliers' Association member companies have had to deal with a highly challenging financial climate in the last three years
With the construction industry showing signs of slowing down, equipment sales could stagnate in the current climate of an uncertain economy, says industry body Construction and Mining Equipment Suppliers' Association (Conmesa) chairperson Lawrence Peters.
"In 1999, construction and mining equipment suppliers experienced tough times, owing to the major economic downturn that affected South Africa. These companies could face similar financial challenges again," he highlights.
Peters emphasises that although Conmesa member companies have had to deal with a highly challenging financial climate in the last three years, there is no sign of downscaling operations yet.
Peters says Conmesa does not have employment figures for its member companies, but estimates that they collectively employ about 10 000 people.
"The first three months of this year have been fairly good for equipment suppliers and we hope that this trend will continue. However, we do not predict any exceptionally large investments in the construction industry this year," he states, adding that continued positive equipment sales will help prevent companies from being forced to re-evaluate their targets for 2014.
Moreover, Peters notes that many Conmesa member companies are cautious with regard to the rest of the year, despite capital equipment demand remaining steady.
He estimates that the sectors of the industry that Conmesa members serve contribute about R12-billion to R15-billion a year in capital equipment sales to the South African economy.
Peters notes that only two Conmesa members – heavy equipment manufacturers Bell Equipment and Desmond Equipment – manufacture their equipment locally, with the other capital equipment suppliers having to import their equipment.
"Companies which import their equipment do not have any problems importing their machines. However, these companies have the responsibility of ensuring that the imported equipment meets the requirements of local industry needs and the regulations of the International Trade Administration Commission of South Africa, such as the International Trade Administration Act."
He says importing fully constructed pieces of capital equipment does not assist in directly creating jobs in South Africa.
However, Peters notes that importers generally establish large facilities to store their equipment, which requires general administrative staff and maintenance crews to ensure the facilities and equipment are maintained, subsequently creating downstream employment opportunities for locals.
"Capital equipment importers generally also have to import spare parts for these machines," he adds.
Nonetheless, Peters says certain components that are used as part of a machine, such as front-end loader buckets or excavator buckets, can be bought from local companies at competitive prices, as these parts are manufactured from local high-quality steel.
Industry Overview
"The capital equipment industry was fairly buoyant last year," enthuses Peters.
Conmesa member companies, from January to September last year, delivered 2 287 construction units, which included 374 excavators, 63 crawler dozers, 158 wheel loaders, 31 compact wheel loaders, 190 motor graders, 955 backhoe loaders, 66 telescopic handlers, 148 skid steer loaders, 145 single-drum rollers, 87 tandem rollers and 70 walk-behind rollers.
He notes that these figures exclude government tender supply and all other classification areas, such as mining, agriculture, harbour and maritime industries.
"These units constituted 41.1% of capital equipment supplied to all industries in South Africa," highlights Peters.
Second-Hand Equipment
Peters says Conmesa does not consider the capital equipment second-hand market as a direct competition to the new-equipment market, but rather as a supporting player.
"It is critically important in our industry that companies have the option to support the second-hand market," he emphasises.
Engaging Government
Peters tells Engineering News that the last formal engagement that Conmesa had with the Department of Trade of Industry was in September last year during the bauma Africa trade fair at the Gallagher Convention Centre, in Midrand.
"We would like to see greater involvement by all capital equipment stakeholders, including government and the private sector, to smooth the way forward for good business practices."
He stresses that, without good business practices in the capital equipment sphere, South Africa's whole economy will suffer, owing to the size and importance of the industry's contribution to the economy.
"Our major challenge in the last five years has been to ensure that all imported equipment meets local and international standards, such as the ISO 22242:2005, which identifies and describes machinery and equipment used in the construction and maintenance of roads, highways and runways," he points out.
Peters emphasises that equipment-quality standards are particularly important to Conmesa, as the association has noted the considerable increase in imported manufactured equipment, "which may not comply with our industry standards and, therefore, may pose a health and safety risk to local users".