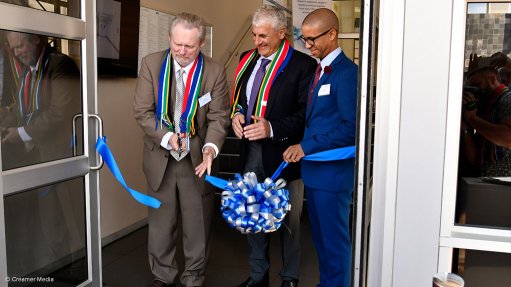 (Left to Right) Trade and Industry Minister Dr Rob Davies, Aspen group CE Stephen Saad and Aspen capability manager Branson Bosman
Photo by: Dylan Slater
Pharmaceutical company Aspen on Monday officially opened its R1-billion high containment facility, which further cements the company's position as a private investor in the South African pharmaceuticals industry.
The facility, correctly called a high containment suite, is one of six production facilities at Aspen's flagship pharmaceutical manufacturing site in Port Elizabeth and the opening was officiated by Trade and Industry Minister Dr Rob Davies.
Aspen benefited from the Department of Trade and Industry's 12i tax incentive with a tax credit of about R209-million.

Davies said the facility was a significant investment that would enable South Africa to enter a new level of manufacturing and create the necessary jobs that South Africa needs in the manufacturing sector.

"If we look at the pharmaceutical industry, South Africa's population is the largest consumer of pharmaceutical products. When we look at some of these statistics, I think we can see that there are huge challenges in that we have a huge trade deficit of around R20-billion. This means we import R20-billion more pharmaceutical products than we export," said Davies.

He further added that the contribution of manufacturing in the pharmaceutical sector is about 0.48% of South Africa's gross domestic product, which plays a small part in the economy and employs about 9 600 people.

"I think when we look at the manufacturing value chains in the world, South Africa will be better off if we are involved in the production of value-added products, even if it is just basic manufacturing than simply importing," he said.
Aspen group CE Stephen Saad said the facility uses complex technologies, which provides Aspen with the opportunity to expand into manufacturing products that are used for rare indications.
Initial production in the 23 000 m2 facility is planned for Alkeran, Leukeran and Purinethol, which is used for late-stage cancers; Imuran, which is used for prevention of organ tissue rejection as well as the treatment of certain autoimmune diseases; and Benztropine, which is used in treatment of Parkinson's disease.
At full capacity, the facility is expected to produce about 3.6-billion tablets yearly, and package about three-million bottles monthly.
This facility is designed for the manufacture of products with low occupational exposure limits, such as high potency active molecules (the stuff that makes medicine "work").
As the activity and specificity of the active pharmaceutical ingredient of medicines becomes more specialised, dosage strengths decrease, resulting in an increased potency of the medicines, which require more specialised occupational handling and equipment for more toxic substances.
All of these molecules are more powerfully active. High containment facilities are not readily found globally and present a niche strategic domestic and export opportunity for Aspen and South Africa, the company said.
"With its current manufacturing operations constituting a significant portion of the installed pharmaceutical volume capacity in our country, Aspen's ongoing investment in its South African manufacturing sites bolsters the introduction of new technologies, the addition of skilled employment opportunities and the enhancement of our country's export capability," Saad said.
He further noted that Aspen will be relocating and transitioning its offshore anaesthetic manufacturing into its Port Elizabeth site over the next few years.
The investment will significantly strengthen South Africa's capacity as a manufacturer of quality pharmaceutical products, Davies said, adding that this investment is fully aligned to the government's Industrial Policy Action Plan (Ipap).
The updated Ipap is expected by mid-May, he added.
The investment is also aligned to the National Development Plan and President Cyril Ramaphosa's call for investment.
Aspen's operations in the Eastern Cape employ over 2 500 people, of which 2 000 are at the Port Elizabeth site, with more than 90% of these employees being recruited from local communities.
Apart from the medical benefits, the high containment facility, together with the new sterile facility being built at the same site, will provide about 500 additional jobs, which will be mainly specialised and highly skilled jobs.
The majority of the products produced will be exported from Port Elizabeth into multiple global markets, which will generate hard currency for South Africa and reduce the country's trade deficit, which continues to persist in the South African pharmaceutical market.
Only 60 staff are currently permanently employed at Aspen's high-containment facility.