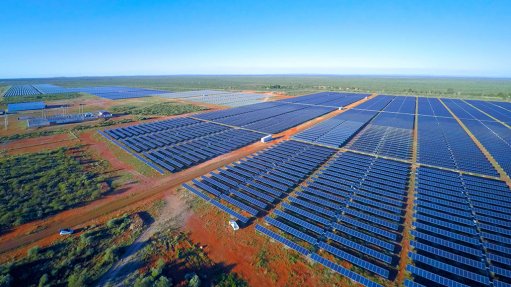 US-based utility-scale solar tracker technology multinational Array Technologies has entered into a definitive agreement to acquire Spain-based solar tracker manufacturer Soluciones Técnicas Integrales Norland (STI Norland) for about €570-million in cash and stock, which will help to accelerate international expansion plans.
"STI Norland brings to Array a proven product line that is ideally suited for complementary markets, which will help to accelerate our international expansion plans. The increased scale of the combined enterprise also provides opportunities for significant cost reduction as we drive greater volumes with our suppliers and achieve increased leverage on our fixed costs," says Array chairperson Brad Forth.
The transaction is expected to close in the first quarter of 2022.
STI Norland CEO Javier Reclusa, as well as the rest of the company's senior management team, will remain with Array following the closing of the transaction and continue to lead STI Norland.
Over the past several years, STI Norland has achieved high double-digit growth in revenue and earnings before interest, taxes, depreciation, and amortisation (Ebitda) by leveraging the strength of its products and sales teams, which are well-suited to the needs of certain international customers.
STI Norland generated revenues of about €200-million and Ebitda of about €43-million in 2020.
STI Norland has leading positions in Iberia and Latin America, including the rapidly growing Brazilian solar market. STI Norland has completed or been awarded tracker systems for more than 400 projects globally, representing more than 12 GW of generation capacity.
"This transaction is an important first step in the expansion strategy. The combination of Array and STI Norland creates a global leader in trackers, with leading positions in every major market for solar outside of China and India," says Forth.
"We look forward to welcoming STI Norland's employees to Array. Both STI Norland and Array are rooted in entrepreneurial, founder-operated businesses that are focused on innovation. Together, I believe we have the technology, culture and capabilities to build a truly global business that can create tremendous value for our customers, employees and shareholders," says Array CEO Jim Fusaro.
"The entire STI Norland team is excited about joining Array and the opportunities that the combination of the two companies will unlock. We have a tremendous amount of respect for Array, its technology and management and I look forward to working closely with Brad and Jim to support their ambitious expansion plans," notes Reclusa.
SOUTH AFRICAN FOOTPRINT
This sentiment was echoed by STI Norland South Africa CEO Duncan Palmer, who says there could not have been a been better complementary transaction, as both Array and STI share the same values and, with expertise in different continents, the teams complement one another.
The STI Norland South Africa team, which is responsible for the sub-Saharan Africa markets, has a proven seven-year record in South Africa and has full local production under way for the STI-H250 dual-row tracker that meets the local content requirements.
"This, combined with a competent team and warehousing of significant stock to support both new and existing projects, adds to the technology support," Palmer says.
Significantly, with the 100 MW licensing-exemption of distributed generation projects in South Africa and the compelling business case for solar photovoltaic (PV), there is significant growth predicted for the sector in the near and medium term and, thus, for the company's STI-H250 tracker.
In the longer term, storage will play a key role to support the transition to PV.
"STI Norland offers world-class, bankable single-axis tracker technology with local expertise and support," he adds.
The combination of two of the world's top-five single-axis tracker suppliers will offer new opportunities, not only technically, but in terms of markets, people, customs and cultures.
"STI Norland as brand and company is well established on the continent and will be managed as before, but will now seek synergies between Array and STI. We understand doing business in Africa. The product works and our team has experience not only in South Africa, but completing successful projects in Africa," Palmer says.
"The acquisition can support regional growth in Africa. Utility-scale solar projects are our core focus, with the dream of becoming a team that has done a 1 GW project. Manufacturing has already been established in Gauteng, South Africa, and is currently serving several projects under construction," he says.
Further, the combination of Array and STI Norland creates the largest solar tracker company in the world. The combined business will have leading positions in North America, Latin America and Europe, the three largest markets for solar outside of China.
With manufacturing capacity and design and engineering resources on three continents, the combined organisation's ability to support customers on a global basis will be unparalleled, Array says.
Additionally, STI Norland is a leading provider of solar trackers in Brazil and its strong position is reinforced by its local manufacturing presence and supply chain.
"Brazil has the third-highest solar resource of any country. Yearly utility-scale solar installations in Brazil have more than tripled over the past three years as the levelised cost of electricity for solar has fallen below conventional generation. Nearly 10 GW of utility-scale solar is forecast to be installed in Brazil in 2022 and 2023, according to industry analysts, with more than 90% of those projects using trackers."
Access to STI Norland's product gives Array a broader product portfolio that will allow the company to provide global customers with the product that best meets their goals given site conditions, local content requirements, labour costs and objectives for upfront cost and total lifetime cost.
This creates opportunities to sell Array products through STI Norland's sales channels, the company says.
STI Norland has longstanding relationships with major international customers including Acciona Energia, Iberdrola, and EDP Renewables that are not currently significant volume customers for Array. Array expects that the strength of STI Norland's relationships will help to drive increased sales to these customers in the US and internationally, Array notes.
Additionally, STI Norland generates about 95% of its revenues outside of the US and there is virtually no overlap between the company's major customers and Array's major customers.
"Array expects STI Norland to be significantly accretive to Array's margins and earnings per share in 2022 before any synergies. Based on current market conditions and the backlog, awarded orders and sales pipeline for both companies, Array expects the combined business can generate in excess of $200-million of adjusted Ebitda in 2022 before synergies.
"Array plans to provide detailed guidance for 2022 in connection with the company's fourth-quarter earnings release in March 2022."
Further, following the closing of the transaction, Array intends to initiate several cost reduction plans across the combined company which will include evaluating additional supplier discounts that may be available from combining purchasing volumes, identifying common components where either company has advantaged pricing, and implementing mutual manufacturing best practices across both companies' facilities to reduce cost, the company says.