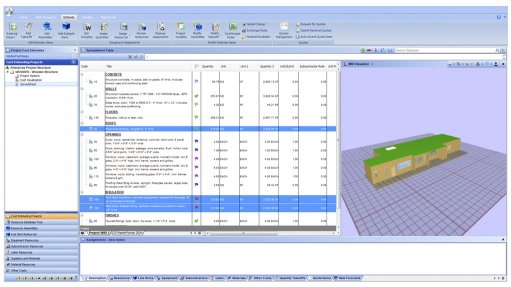 SOFTWARE PROVISION Infracon Consulting will be able to sell and distribute Ares Prism, an enterprise project life-cycle management solution to manage the complete project life-cycle of capital projects
Provider of integrated project cost management software solutions Ares Project Management, a subsidiary of Ares Holding Company, and South Africa-based multilayered consulting company Infracon Consulting launched their strategic partnership last month.
The aim of this partnership is to serve the South African and other African markets with project controls and software capabilities for time, cost, procurement and commercial integration, among other modules.
Wi
th this collaboration, Infracon Consulting, a Level 1 broad-based black- economic-empowerment (BBBEE) company, becomes one of the first black-women-owned companies to partner with a global company in project management.
Infracon currently provides project controls in core service areas, such as estimating, scheduling and planning, quantity surveying, and commercial management and project management consulting within the construction, mining, oil and gas and power generation sectors.

"We are now able to sell and distribute the world-class software, Ares Prism, to deliver a through-the-line service to our clients," says Infracon Consulting chairperson and project controls director Joalinda Asuamah.
Organisations in more than 30 countries rely on Prism, an enterprise project life-cycle management solution to manage the complete project life cycle of capital projects to lower costs, mitigate risks and improve overall project performance.
Ares Prism ensures reliable forecasts, cost control and performance measurement. Management processes can be integrated and standardised using Prism modules for estimating, cost management, engineering management, procurement, contracts, field management and dashboards.
Asuamah notes that the partnership will provide clients and customers with peace of mind and absolute confidence. This allows for procuring enterprise project and cost management software, she explains.
Further, the partnership will enable Infracon to provide world-class project management for megaprojects in South Africa and Africa for the first time, she adds.

Ares Project Management senior VP Scott Hyman notes that the company sought a partnership that would benefit its clients and regional African partners. Selecting Infracon Consulting enables Ares Project Management to strengthen its commitment to black-women-owned businesses and BBBEE, Hyman says.
He adds that services support that will be provided by Ares Project Management, a company with more than 25 years' experience in the market, will ensure that clients have access to "the best the world has to offer in project management solutions".
Infracon Consulting CEO Yaw Yeboah states that the partnership between Ares and Infracon means "revolutionising the way that controls are handled in the African context, not only for major projects but also projects across the line". He explains that Africa is in a development phase and, therefore, lacks maturity in project controls. Other obstacles include projects that do not meet time or cost targets.
Yaw suggests that, to achieve its potential, "Africa needs to not only meet but also exceed the continent's infrastructure development needs", arguing that Ares Prism is ideally suited to allow for this.