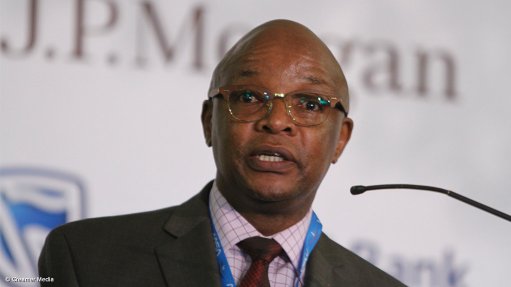 AngloGold Ashanti chairperson Sipho Pityana
Photo by: Duane Daws
JOHANNESBURG (miningweekly.com) – South African business and civil society should seize the moment and demand the resignation of head of State President Jacob Zuma, who is the "sponsor-in-chief of corruption" in South Africa, AngloGold Ashanti chairperson Sipho Pityana said on Wednesday.
In a keynote address at the Joburg Indaba, Pityana received a standing ovation after drawing attention to South Africa being in political and economic crisis, fuelled by corruption.
He urged every proud South African to join a movement to protect South Africa's sovereignty as its very independence is being threatened by widespread graft and entrenched vested interests.
When leadership fails as spectacularly as it is failing in South Africa, ordinary citizens need to speak out in favour of the Constitution and sovereignty, he said.
"Corruption is draining the very lifeblood of our country," Pityana told the conference attended by Creamer Media's Mining Weekly Online.
"The elephant in the room is a President who lacks integrity and cannot be trusted."
The Constitution allows its citizens to call on a President to leave office.
It requires steadfastness and business and society must act together immediately.
"We can no longer afford to wait," Pityana added.