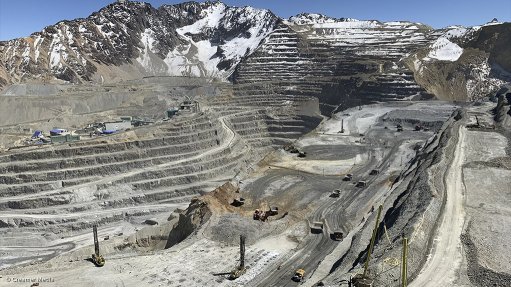 Los Bronces opencast copper mine with ice-capped Andes mountain range in sight.
Photo by: Creamer Media's Martin Creamer
SANTIAGO, Chile (miningweekly.com) – Anglo American's copper operations in Chile are targeting a switch to climate-positive hydrogen trucks, should their development in South Africa prove successful.
The world's largest hydrogen-powered mine haul truck is being developed at Anglo American Platinum's Mogalakwena mine in Limpopo, as a means of lowering carbon emission. The hydrogen will be produced from renewable sources rendering it 'green'.
"Every truck that we buy in the future, depending on the success of Mogalakwena, will be targeted as a hydrogen truck," Anglo American Chile CEO Aaron Puna told Mining Weekly Online.
Puna was responding to questions following his address to visiting international media, which included an outline of plans to migrate to emission-free 'green' mobility at operational level.
This forms part of the group's commitment to reducing greenhouse gas emissions by 30% in the next ten years.
Also outlined by Puna to Mining Weekly Online was Chile's plans for a progressive migration to the use of electric vehicles and provision of associated charging infrastructure.
"We have different rules around how we procure, so we're not at this stage at the point where we're going to make wholesale changes, but what we do know is that there are certain critical junctures that provide opportunities for replacement," Puna explained in response to whether migration to a low-carbon future had reached the budgeting stage.
"We have a sustainable mining plan and we've got a number of key metrics in that space. We don't have a specific budget but what we do have is a requirement to deliver on each and every one of those metrics," he said, adding that hydrogen truck procurement would be an example of fulfilment of one of those metrics.
"We absolutely know what we have to deliver, and then we've got an approach that aligns it with our current financial forecast," he explained.
Regarding migration to electric cars and buses, steps were being taken with a renewable energy contractor to be 100% renewable by 2021, which will open the way to increasing electromobility by electrifying not only buses but also developing charging stations.
The company transports its personnel in buses to various parts of the city and far-flung areas and would be prepared to develop charge stations for the buses at mine gateways. But it also has buses that stop elsewhere and thought is being given to how these can recharge. At its corporate office car park, a limited number of charge stations have already been developed and consideration is being given to establishing more and opening their use to the general public.
In Chile, Anglo operates the Los Bronces and El Soldado copper mines, the Chagres smelter and has a 44% interest in the Collahuasi copper mine.
The flagship Los Bronces deposit is located in Lo Barnechea, near Santiago, and its Las Tortolas concentrator plant is in Colina.
Collahuasi, in northern Chile, is a joint venture with Glencore and Japan Collahuasi Resources.
Anglo American produces copper concentrate and cathodes and related by-products such as molybdenum and silver.
Its partners in the Los Bronces, El Soldado and Chagres assets are Chile's State-owned mining company Codelco and Japan's Mitsubishi and Mitsui.
Water management in Chile is critical, with climate change adding to water scarcity.
Far-reaching water-saving technologies are being developed at a rapid rate and recycling of water is being significantly stepped up. By 2020, 75% of water will be reused and by 2030, the target is to recycle 100% of the water used.
Moreover, water thrift and climate-positive action such as renewable energy generation are a single thrust at the Las Tortolas tailings dam, where the shade offered by the floating of 256 photovoltaic panels on the water prevents the evaporation of 3 000 m3 of water a year.
Overall, technologies being introduced, such as bulk ore sorting and coarse particle recovery, are offering the cost saving and efficiency enhancement of higher grade, along with increased throughput, greater water recovery and lower energy costs.