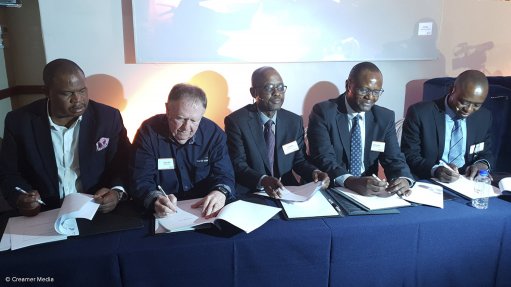 Limpopo MEC for Economic Development, Environment an Tourism Thabo Mokone; World Vision chairperson Malcolm Boyd; Exxaro CEO Mxolisi Mgojo; Anglo American South Africa executive head Andile Sangqu; and CSIR CEO Dr Thulani Dlamini
Photo by: Creamer Media's Simone Liedtke
POLOKWANE, LIMPOPO (miningweekly.com) – Diversifed miners Anglo American and Exxaro have, alongside the Council for Scientific and industrial Research (CSIR) and World Vision International announced their collaborative partnership to work with the government of the Limpopo province to drive sustainable economic development in the province through a multisector initiative called, the Impact Catalyst.
The initiative forms part of Anglo's Collaborative Regional Development programme, which seeks to create long-term economic prosperity in the company's host communities and regions through partnerships, beyond the expected life of a mine.
Impact Catalyst identifies socioeconomic development opportunities with the greatest potential in a region through spatial planning and analysis, which creates a catalyst for partnerships with a range of stakeholders, including community representatives, faith groups, businesses and entrepreneurs, government, academic institutions and nongovernmental organisations.
Impact Catalyst acting manager Charl Harding noted during a media event on Tuesday that the collaboration partners were of particular importance, considering that "government cannot solve all the challenges alone", and that the combined resources of the companies had the potential "to make a difference".
He explained that the initiative was designed to leverage collaboration for collective impact and to be cross-sectoral by considering economic development, health, education, social empowerment, service delivery and the environment.
Limpopo Economic Development, Environment and Tourism MEC Thabo Mokone, who described Impact Catalyst as "unique", said the initiative was designed to benefit "the ordinary men and women of the province". He added that this would also contribute to the growth of the provincial economy through ensuring improved access to education, social upliftment and a general improvement in service delivery.
The Limpopo province's mining sector, comprising about 147 operations, contributes about 25% to the provincial gross domestic product.
Anglo American South African executive head Andile Sangqu further commented that the launch of Impact Catalyst "demonstrates the importance of partnerships in building the foundations for long-term, sustainable development" in local host communities beyond the life of a mine.
Several feasibility studies and pilot programmes are already under way in Limpopo as part of Impact Catalyst's efforts to stimulate economic development in the region.
Other projects in the pipeline include a wide-ranging enterprise and supplier development programme, which aims to create small businesses that supply goods and services to mines and other businesses, and an integrative geospatial planning capability, which was developed by the CSIR and will be co-founded by Anglo American.
Sangqu added that a specific focus for Impact Catalyst would be on empowering the youth, particularly those whose development had been arrested by factors beyond their control. "Young people might live in the present, but they are undeniably the future. We have to give them hope and demonstrate that things can change," he said.
CSIR CEO Dr Thulani Dlamini described the initiative as a "game changer" and said the initiative spoke to "the heart of what the CSIR is about".
Exxaro CEO Mxolisi Mgojo, meanwhile, commented that Exxaro wanted to continue improving the quality of its relationships with its stakeholders to create long-term value for society.
He added that Impact Catalyst spoke to the miner's 2026 strategy, which was aligned with the National Development Plan and the UN Sustainability Development Goals. He emphasised that "without a doubt, government will always be the primary driver of socioeconomic development", but warned that it was "unhelpful to overestimate the State's capabilities".
In this respect, Mgojo mentioned that government could achieve more and at a better level by partnering with the private sector to drive development through partnerships, as demonstrated by Impact Catalyst.