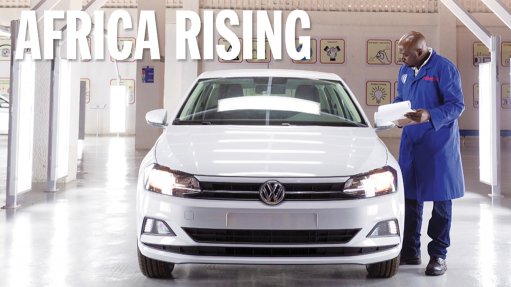 The great African automotive story of this year will be Ghana, says Volkswagen Group South Africa (VWSA) chairperson and MD Thomas Schäfer, who is also the president of the African Association of Automotive Manufacturers (AAAM).
The AAAM, established in November 2015, focuses on the expansion of the automotive industry across the continent by working with governments to shape policies that will attract investors and aligning all stakeholders committed to the development of the automotive industry in Africa.
Last year, the global automotive industry decided to move into a higher gear in its interactions on the continent, with South Africa and Morocco currently the only significant participants in global automotive supply chains, says Schäfer.
"We realised that we needed to professionalise our engagement with countries. We needed to follow up on those initial engagements we had had with governments. We faced the point where we got countries excited, but then we didn't have budget and they didn't have budget to bring the developments forward."
One effort to turn the AAAM into a more effective machine was the appointment of Dave Coffey as CEO.
Coffey is well known in the South African automotive industry. He is a former president of the South African National Association of Automotive Components and Allied Manufacturers, as well as the MD of Shatterprufe.
"Dave was appointed to run the AAAM full-time from February 1," says Schäfer.
"I believe in Africa," comments Coffey. "The continent has huge potential. I'm very excited about this new challenge."
Basic Ingredients
The AAAM is currently pushing for African countries interested in establishing an automotive industry to put certain fundamentals in place.
These include ensuring that the right quality fuel is available in-country, establishing vehicle financing mechanisms and implementing an automotive policy that will support local assembly, explains Schäfer.
"We have also started a collaboration with the VDA, the German association for the automotive industry, to support us in terms of vehicle quality checks and technical standards.
"We are also working with the African Export-Import Bank and the African Development Bank to help us secure funding so that we can run the AAAM on an increasingly professional level, so that it is able to advise as many countries as possible on automotive policy. This will be a real step up for the AAAM."
The AAAM is currently financed through member fees. AAAM members include Nissan, Volkswagen, Isuzu, BMW and Toyota.
"Whenever we have engagements on fuel quality, for example, VWSA will send our fuel expert around Africa. It's the same for crash tests and emissions – using . . . other vehicle manufacturers within the AAAM," says Schäfer.
"Someone needs to pay that bill, and it can't be Nissan and some of the other manufacturers all the time. Everyone needs to come on board."
Schäfer and deputy chairperson Mike Witfield, of Nissan, had, up to the beginning of this year, before Coffey came on board, taken almost sole management responsibility for the AAAM. Schäfer is also responsible for Volkswagen's activities in Africa.
"Dave's appointment means we can step back from handling operational issues and return to supervising the AAAM's strategy as he takes us into full operational mode," explains Schäfer.
Consultancy group Deloitte Africa is still on board, with the company providing operational support for Coffey, as it did, and still does, for Schäfer on various topics.
"Dave is working on a central programme of action for the AAAM," says Schäfer. "The idea is to keep the admin part as lean as possible, with vehicle manufacturers providing specialists from their various countries of origin, along with the services of global experts where required."
Four Pillars
The AAAM has four pillars, says Schäfer – policy and trade; technical matters; skills development; and roadshows, exhibitions and the provision of data.
The VDA is helping extensively with the first two, with funding from development banks to hopefully also assist these processes.
Former South African Trade and Industry Minister Alec Erwin is also assisting on the policy development side.
In terms of skills, the AAAM is currently engaging with the German Corporation for International Cooperation (GIZ) to assist in Africa, says Schäfer.
The GIZ is a German development agency headquartered in Bonn.
"They provide grant funding and they are already pretty big in South Africa," says Schäfer.
"Talking to many African countries, we realised that we have underestimated the skills needed to set up an automotive industry."
The AAAM is making use of Deloitte Africa with respect to the fourth pillar.
"We are also trying to sign up with any African association that has the continent's automotive industrialisation at heart," notes Schäfer.
"We are talking to associations in Morocco, Ethiopia and Kenya, but also the French automotive association, for example. We are really exploring who can help to make this happen.
"We have also been in contact with Japanese groups. Nissan and Toyota here in South Africa are talking to them.
"I spoke to the Americans when I was in Washington in September – USAid, and so forth.
"We don't need tons of money. We just need to get started.
"In general, there is enormous interest in Africa, but people don't know how to get involved. It also seems that there is a lack of projects in which to become involved."
Also on the cards is the formation of the African Institute for Mobility, Sustainability and Industrialisation, adds Coffey.
The plan here is to have development banks as partners, raise the funds and facilitate the industrialisation of a sustainable auto industry in Africa.
Ghana
Ghana's journey started with the signing of a memorandum of understanding to develop an automotive industry, says Schäfer.
"I had an initial discussion with the Ghanaian President when he was on a State visit to Germany.
"We spoke about getting the supportive policy right and about looking at second- hand car importation, which really kills off any opportunity to develop an automotive assembly industry.
"We also discussed fuel quality, homologation and vehicle financing– all in order to secure an industry that would be very valuable to the country."
The Ghanaian government has, to date, done exactly what is required.
The country has worked with Erwin and a small team of experts and compiled an automotive policy for the country.
"This policy is probably the best on the continent," says Schäfer.
The good news is that the Ghanaian government formally approved the Customs Amendment Bill in the second week of March, thereby legislating the Automotive Policy support measures, notes Coffey.
"The expectation is that the country's auto programme will be fully implemented by March next year.
"This is very positive for Ghana, which demonstrated the political will to implement an effective automotive policy."
Coffey says the AAAM is exploring the development of both an automotive skills development ecosystem and the manufacture of automotive components for aftermarket demand – in partnership with Tier 1 suppliers – such as suppliers of glass, shock absorbers, rubber products and filters.
The AAAM will also establish representation in Ghana.
As a result of the policy, Volkswagen has been one of the first movers to invest in Ghana's fledgling automotive industry.
"We have submitted our investment plan as Volkswagen," says Schäfer.
"We are going to start small, with semi- knockdown (SKD) assembly, and grow from there. As demand grows, so should investment."
The German carmaker has already registered a 100% subsidiary, Volkswagen Ghana.
"We have appointed a local CEO and we started operations in March," adds Schäfer.
"We have no real intelligence on the Ghanaian market, so we'll have to open our doors and determine what the market requires.
"We are going to take our time and grow, and then perhaps export regionally."
Schäfer believes that other countries showing potential, as well as the much- needed political will to develop an auto manufacturing industry, include Ethiopia, Rwanda, Kenya and Nigeria.
"We had a good engagement with the Cabinet in Ethiopia, and they promised to develop a policy. We hope to get the GIZ to help with funding this move.
"The German government has already funded a McKinsey study into the components manufacturing potential in Ethiopia."
Schäfer says McKinsey has looked at what is available in Ethiopia, such as textiles and leather, and how to boost this for the export market, thereby gaining valuable forex – which is currently in short supply – to develop the rest of the automotive industry.
He adds that components manufacturing, as opposed to SKD assembly, requires a steady electricity supply, which is currently not available in many African countries.
However, a new hydroelectric scheme currently being built in Ethiopia should resolve this problem in the coming years.
The AAAM is currently engaging the Nigerian government in terms of exploring the potential roll-out of an auto policy, which was previously researched.
The association has also requested Deloitte Africa to coordinate a delegation of global automotive vehicle manufacturers and components supplier firms to visit Kenya in July, notes Coffey.
Outlook
If plans to create a Pan-African Auto Pact (PAAP) succeed, it can potentially create a market of four-million new vehicles a year, says Schäfer.
The African Continental Free Trade Agreement (AfCFTA) has been signed, he adds, and this will gradually come into effect.
"From July 1 already, countries can import parts from anywhere in Africa duty-free.
"Obviously, you need minimal value-add, at about 40%, but our components makers in South Africa can, for example, sell components duty-free in Ghana and Kenya."
Schäfer adds that the AAAM is already working on the second phase of the PAAP.
"Working with South Africa's Department of Trade, Industry and Competition, this will unlock potential free trade within the automotive industry on the continent."
The PAAP aims to connect potential automotive powerhouses to trade quickly and easily, ahead of the AfCFTA, which may take years to be fully implemented, as about 4 000 trade lines have to be negotiated.
There are also a number of existing, overlapping trade agreements that have to be untangled.
"We have set up South Africa and Ghana in this PAAP, and then we are looking at South Africa and Kenya," says Schäfer.
"The first phase of the PAAP was all about seeing which countries wanted to be part of the pact, and to then create a hub-and-spoke model for these countries in order to establish regional development areas."
A regional hub-and-spoke model could, for example, see Ghana becoming the champion of West Africa, reaching out to countries such as Benin and Togo to give some of the work in the value chain to them.
"We will explore what components manufacturing and supply chain services the regional countries in the Economic Community of West African States can provide to the assembly of vehicles in Ghana according to the hub- and-spoke model," notes Coffey.
"The second phase is to operationalise the PAAP and to say how exactly do we manage trade between South Africa and Ghana," notes Schäfer.
"We have to find a way to trade with [one another] and to boost our economies.
"The PAAP carries us through as we wait for the AfCFTA, so that we don't lose momentum."
Looking ahead, adds Coffey, the goal for the next two to three years is to develop a sustainable vehicle manufacturing hub in West and East Africa, supported by spoke components manufacture in the respective regions.
New-vehicle sales will also grow, albeit off a low base, as a result of the existence of the automotive ecosystems, with all these activities contributing to economic growth and a significant number of new jobs.