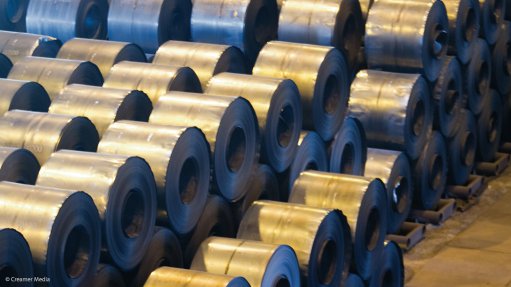 Photo by: Creamer Media
Steel producer ArcelorMittal South Africa (AMSA) has submitted two separate applications to the International Trade and Administration Commission of South Africa (Itac) requesting import protection on hot-rolled coil (HRC) and heavy structural beams respectively.
The HRC application seeks to extend an 8% safeguard duty already in place beyond its August 2020 expiry date.
The safeguard duty is imposed in addition to the 10% base protection that applies to HRC imports into South Africa, as well as to most other primary steel products.
In 2017, AMSA secured a safeguard duty on HRC for a three-year period, beginning in August of that year and instituted on the basis of a sliding scale.
The initial duty rate was 12% above the 10% base protection level.
The safeguard duty then declined to 10% from August 2018 and then fell to 8% from August 2019.
CEO Kobus Verster said on July 30 that the group's application to Itac was for an extension of the safeguard duty at a rate of 8%.
He also reported that it had made an application for protection on heavy beams manufactured at the Highveld Structural Mill, in Mpumalanga.
The eMalahleni mill was restarted in April 2017 after Highveld, which entered business rescue in 2015, concluded a contract manufacturing agreement with AMSA.
In 2019, AMSA announced that it intended buying the mill, which is Africa's only producer of heavy structural steel.
The proposed transaction had yet to be completed, but Verster indicated that AMSA remained interested in the acquisition.
AMSA had not requested a specific level of import protection to be imposed on imported heavy structural beams, but had instead outlined its case to Itac for the imposition of a safeguard duty.
The group, which reported interim results on July 30, indicated that imports decreased to 300 000 t during the period, when international trade had been negatively affected by Covid-19 lockdowns.
Verster said imports still represented 19% of apparent steel consumption of 1.8-million tons, which itself represented a 26% year-on-year decline.
"Major source countries of imports are China, Europe, Japan, Russia and Taiwan, with China and, particularly Russia, proving to be the most disruptive," he said, while expressing frustration that safeguard duties had not yet been imposed on Russian steel.
"Itac made an assessment in September 2019 that Russia no longer qualified for exemption from safeguards on HRC products. Ten months later, the decision is still to be Gazetted and implemented, despite numerous letters from the company urging action."