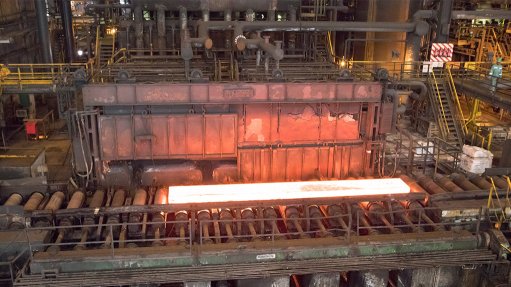 ArcelorMittal Vanderbijlparjk Works
Photo by: ARCELORMITTAL
In light of weak domestic demand, ArcelorMittal South Africa (AMSA) has implemented a strategy to enhance its short-term profitability and cashflow, thereby, ensuring the business' sustainability and positioning it to exploit growth in the sub-Saharan Africa region, says CEO Kobus Verster.
During a media tour of its Vanderbijlpark facilities on Wednesday, he noted that most steel companies required strong domestic demand to ensure profitability underpinned by a "reasonable" economic growth rate of about 1.8% to 2%.
However, owing to South Africa's muted economic growth over the last three years, domestic steel demand has been consistently weak. "The current steel consumption in South Africa is almost at a ten-year low."
Locally, "demand is a problem . . . we've also had a period of a relatively strong currency, which has resulted in us being unprofitable for a period of about seven years. Luckily, over the past year, things have changed."
Verster pointed out that it had received financial assistance from its shareholders, as well as support from government in the form of increased import duties and other safeguards aimed at protecting the steel industry.
"[However,] from a business perspective, we still have to work on our cost-base; it's naive to think that you can come from seven years of losses and think that you can make a profit."
Verster stated that AMSA is not competitive in terms of some of it controllable costs and is aiming to reduce its costs by $50/t in order to position it as a sustainable business in the longer term.
Additionally, AMSA is working to increase its volumes.
The company is in the process of restarting its Vereeniging melt shop, which will produce 150 000 t/y, and assist Newcastle in its sustainability process, by removing a lot of "complexity and cost" from the Newcastle business.
The facility is expected to reopen in January and provide in excess of 100 jobs.
AMSA is working towards a combined increase of up to 700 000 t from the Vanderbijlpark, Saldanha Bay and Newcastle plants, by debottlenecking the current asset base.
AMSA is also investigating the feasibility of a new arc furnace at Vanderbijlpark that could potentially increase production capacity to 700 000 t to one-million tons.
Additionally, Vanderbijlpark is also, over the nest 18 months, investing in its downstream product capacity and diversity, improving service and expanding the product base.
"Once you have reduced your cost to an acceptable level, you can actually push volumes, because you can export it. Once you start selling and producing more, you further reduce costs and improve profitability."
AMSA is, meanwhile, considering opportunities to supply downstream companies in the Southern African Development Community, as well as in East and West Africa.
"When we have new volume – because there is no evidence of a domestic growth in demand – we have to find a home for the new volume, and [the aforementioned regions are] where we see out steel going in the medium term."