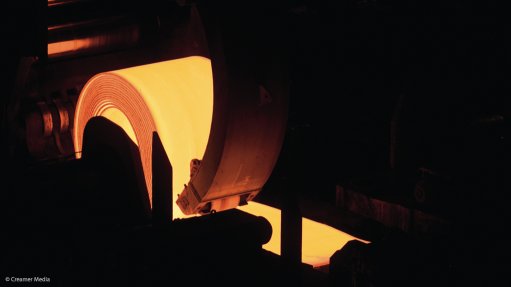 Photo by: Duane Daws
Steel producer ArcelorMittal South Africa (AMSA) announced on Tuesday that it would be increasing prices on flat- and long-steel products from December 1 – a move it attributed to market movements, rising input costs and the need to staunch losses at its Vanderbijlpark Works.
The group outlined the following increases for flat-steel products: a 10.2% increase on hot-rolled coil (HRC), 7% on plate, 9.8% for cold-rolled coil (CRC), 9.3% on galvanized steel and 4.3% for colour-coated steel.
The long steel increases announced included: 6.9% on reinforcing bar, including smooth and mining bar; 6.9% for wire rod, mesh bar, bolt, nut, grinding media and rounds; a 4.7% increase on rails; and a 5% increase on medium sections, including windows and fencing.
Chief marketing officer Alph Ngapo said the adjustments followed a monthly price review and were in line with the fair pricing principles applicable to flat products, which were currently being finalised with the South Africa government.
"Significant increases have been experienced since June 2016 in the international prices of raw materials. The prices of iron-ore and coking coal have increased by 54% and 243% respectively, which has led to an international raw material basket increase of 98%, exerting upward pressure on international steel prices."
Ngapo added that Chinese HRC had increased by 38% over the same period and rebar by 35%. "The spread between the raw material basket and that of the steel price (the gap available for conversion costs and margin), has come down to unsustainable levels from $158/t to $102/t internationally in the case of HRC."
He stressed, therefore, that the decision to increase prices was not based on recent duties imposed on steel imports.
AMSA applied for, and subsequently received, 10% protection on bar and wire rod, as well as plate, CRC, sections, and semi-finished products such as slabs, blooms and billets, HRC and other steel bars and rods.
It had also applied to the International Trade Administration Commission of South Africa for additional safeguard duties on HRC and CRC, which could be implemented over-and-above the 10% protection already imposed.
The move to increase protection for the primary-steel sector is being opposed by some downstream steel users, who warn that it could lead to the closure of businesses and the loss of jobs.
Ngapo said the impact of the decision had been considered, but AMSA had "no option" but to respond to the market circumstances and rising costs to ensure the sustainability of the organisation.
"ArcelorMittal South Africa appreciates progress made with government on a number of key initiatives which are intended to protect the local steel sector. However, the company's Vanderbijlpark Works continues to face sustainability pressure despite a turnaround strategy which is being implemented at the operation."