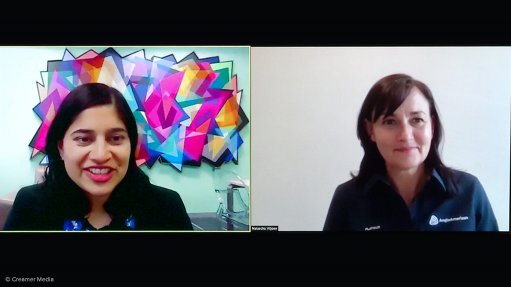 Natascha Viljoen (right) responding to Coronation's Pallavi Ambekar.
Photo by: Creamer Media
JOHANNESBURG (miningweekly.com) – Doing the ordinary tasks extraordinarily well is the current short-term tactic of platinum group metals (PGMs) mining company Anglo American Platinum (Amplats) under new CEO Natascha Viljoen, who is intent on stretching the company's existing assets to their full capacity.
"We don't deserve the right to grow unless we know that the assets we have are absolutely optimised," Viljoen said during a Coronation Fund Managers' Thinking Investments webinar, covered by Mining Weekly. (Also watch attached Creamer Media video.)
In the last four months, going back to basics has produced rich returns, despite Covid, Viljoen emphasised under questioning from Coronation's Pallavi Ambekar on the issue of where she would be taking the company in the next five to ten years.
The best starting response to the question, Viljoen said, would be to give credit to her predecessor Chris Griffith and his team for having already strategically simplified what was a very complex business, during very challenging times of low commodity prices.
Viljoen credited Griffith with turning the business around by reducing all-in sustaining costs significantly and, in spite of fundamental business restructuring, increasing production.
As there was no longer a need for hard decision-making and pruning, the current opportunity was to make sure that the assets in hand were stretched to their full capacity, she emphasised.
What was needed now was to maximise value, something that was not strategic but very tactical and exemplified by performing operational tasks optimally, for example, drilling holes for blasting in the right place, with the right dynamics and at the right depth.
"People have that in their heads, but we haven't institutionalised it and made it part of the DNA of the business. In the last four months, despite Covid, just by going back to basics, we've seen record production month-on-month at our openpit Mogalakwena mine," Viljoen said, adding that putting technology and digital overlays on the going-back-to-basics effort would ensure that it would never be lost going forward. The company's P101 best-practice target was on track to be attained at all operations in the next two to three years.
INTEGRATING THE VALUE CHAIN
Through its end-to-end integrated value chain, Amplats had the opportunity, Viljoen said, to think through achieving the best returns from having that advantaged position.
She noted that each Amplats mining asset had a different product basket when it came to PGMs and base metals, which provided the company with the opportunity to respond to specific market demand.
GROWTH OPPORTUNITIES
Viljoen drew attention to small organic growth opportunities being present at the mechanised underground Unki PGM mine in Zimbabwe – "an operation that's so well run within the constraints of the Zimbabwean realities".
Mototolo, also underground and mechanised, presented an initial replacement opportunity, followed by an expansion opportunity.
At Amandelbult, the company's only deep-level conventional underground mine, a modernisation programme was under way and its future would also be mechanised.
At the top-tier Mogalakwena, opportunities abounded in openpit and underground mining, as well as technologically advancing the concentrator and then making sure that the value chain was integrated.
"Really quite a unique opportunity there because we're setting Mogalakwena up for the first portion of its 100-year life," Viljoen said.
PGMS ROLE IN HYDROGEN ECONOMY HAILED
PGMs play a vital role in cleaning the air of cities by making the automotive industry cleaner and greener.
"It doesn't matter what the future of the drivetrain looks like, with our diversity of product, we can play a role whether its the electrification of the drivetrain, a continuation of stricter emission legislation or its the hydrogen economy.
"The only place we don't play a role is in battery electric vehicles. But if you consider decarbonisation and impacting on global warming, I think our products have got a key place and to a point, our responsibility then is also to help develop that market.
"Another interesting technology that we're busy with is developing a hydrogen mine truck, fully green hydrogen, and not only will that help us with our own decarbonisation journey, but I think that the technology development that's associated with it will play a big role in the broader hydrogen economy. I think it's actually quite an exciting environment where it can be truly green and the application is broad, anything from automotive, light vehicle, to stationary fuel cells, a very different way of electrifying our world," Viljoen enthused.