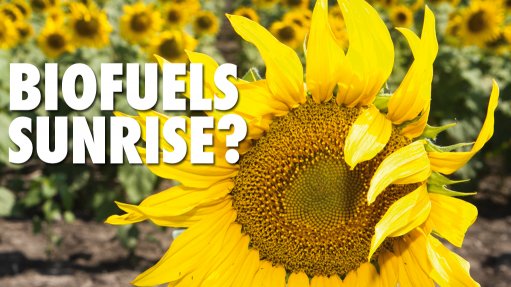 While the food-versus-fuel dilemma remains, South Africa is moving ahead with the roll-out of its much debated biofuels strategy, which even received a mention in President Jacob Zuma's February State of the Nation address, when he confirmed that biofuels manufacturers had been selected and had started work.
Research indicates that renewable fuels could constitute 2% of existing fuel volumes, while only taking up 1.4% of arable land in South Africa, thereby not jeopardising food security. Nevertheless, not all the technical considerations have been settled, while a number of economic and financial loose ends also linger.
Government's draft mandatory blending regulations seek to balance the impact of increased fuel costs that the introduction of biofuels will entail with the potential fuel security, job creation and environmental benefits.
A producer's incentive of R1.21/ℓ for bioethanol and R0.53/ℓ for biodiesel is envisaged, which will be financed through a fuel price increase of between 4.5c/ℓ and 6.5c/ℓ.
Four bioethanol and four biodiesel manufacturer licences have been issued by the Department of Energy and the manufacturers will produce biofuels for mandatory blending with petroleum fuels by October 2015.
One of the goals the Biofuels Industrial Strategy hopes to achieve is to create 25 000 jobs, mainly in rural agriculture. For instance, 14% of arable land in the former homelands is said to be underutilised, opening a space for job creation in farming to produce fuel stock.
Currently, three crops are permitted for producing bioethanol, namely sorghum, sugar cane and sugar beet, and three for producing biodiesel, namely canola, sunflower and soya beans. The biofuels pricing framework reference crops will be grain sorghum for bioethanol production and soya beans for biodiesel production.
Maize, a common bioethanol feedstock throughout the world, is excluded in the latest draft paper on biofuels owing to its importance to local food security, as including it would impact on existing prices, markets and industries, while other potential feedstocks, like jatropha, which produces oil-rich seeds, are excluded on the basis of biodiversity and environmental concerns and to protect existing industries like forestry.
TECHNICAL QUESTIONS
While most of the broader policy matters are settled, many of the economic and engineering questions remain to be answered, such as how the goal of attaining a minimum 5% biodiesel by volume blending and 2% bioethanol blending will be achieved.
Since the introduction of the Biofuels Industrial Strategy, approved by Cabinet in 2007, no single large biofuels company emerged during the five years from 2008 to 2013, owing to the fact that biofuels projects are not financially attractive at prevailing feedstock, crude oil and liquid fuel prices.
The South African Petroleum Industry Association (Sapia) is supportive of government's drive to establish a biofuels industry in the country, but has raised a number of technical questions, some of which have been addressed in the latest draft paper on biofuels. It provides expert input to the committee on topics like blending equipment, financial implications, costing regimes and fuel distribution and handling, besides others.
Issues such as blending at depots or blending at refineries will be finalised prior to the start of blending in 2015, taking into account transport costs and effects on multiproduct pipelines for refinery blending, while quality control and security of supply are critical questions.
Bioethanol is soluble in water and petrol containing more than 2% bioethanol per volume will require an infrastructure upgrade to enable a dry distribution system, including tanks and pipelines, and may not be piped in multiproduct pipelines, owing to problems relating to contamina- tion of other products, such as jet fuel, as well as possible stress corrosion cracking, warns Sapia environmental adviser Anton Moldan.
"The Biofuels Implementation Committee has a number of task teams that are addressing the technical and practical issues pertaining to the implementation of the biofuels strategy, such as the issue of costing and cost effectiveness and the associated costs and risks to infrastructure, as well as blending at depots or refineries. Sapia represents its members and their technical questions, such as sending jet fuel in a multiproduct pipeline after petrol blended with bioethanol has been sent," he says.
INDUSTRIAL POTENTIAL
While substantial work remains to establish biofuels on a commercially sound footing, significant drivers to establish the industry exist, says South African National Energy Development Institute Renewable Energy Centre of Research and Development (Record) centre manager Dr Karen Surridge-Talbot.
Record is focused on waste-to-energy projects and uses international cooperation, such as the German International Cooperation Agency, to demonstrate bioenergy projects.
"We have formed the Algal Bioenergy platform in the field of macroalgae, such as seaweeds, and microalgae, such as single- celled, free-living algae. While there is significant potential to produce bio-oil, and potentially ready-to-use diesel, from algae, the costs remain high. However, there is also potential to produce high-value alternative products from our research in this field, while boosting biotechnology and renewable- energy in South Africa," she says.
Biofuels are subsidised worldwide. This is owing to petroleum being significantly cheaper to produce. However, the development of biofuels in South Africa may actually boost South African farmers, who compete against often heavily subsidised farmers in developed countries by developing an additional market for agricultural products that will help to improve the business case for farming, improving food security and job creation, notes Agricultural Research Council (ARC) Genomics Unit senior researcher Dr Dirk Swanevelder.
"South African farmers face significant international competition and, while biofuels may not be commercially viable at the moment, research and development must be done on agriculture and biotechnology in South Africa to ensure our future competitiveness and food security, to prevent a situation where the country will have to import and pay for biotechnology and to develop additional products and strains of crops," he highlights.
AGRICULTURAL DIVIDEND?
South Africa successfully made biodiesel from sunflowers during the 1970s oil crisis, during the apartheid isolation years, specifically to ensure that farmers could plough and harvest food.
South African researchers achieved good results for indirect injection diesel engines and the engines that could run wholly on sunflower oil. However, a rule of thumb is not to burn anything that is edible, while burning inedible and less costly mineral oils is common sense, says ARC Agricultural Engineering Institute programme manager Petrus Britz.
"This does not, however, preclude the development of a biofuels industry in South Africa, as there are significant high-value pharmaceutical and hygiene products that can be produced from these extracts and oils," he says.
The ARC is busy with a breeding programme to develop sunflower lines that produce more oil or are more suited to on-site processing. This project started recently and developing suitable cultivars will take time, says Swanevelder.
"The project is focused on assessing the entire value chain of biofuels to assess the costs and concerns of each link in order to create a robust and sustainable commercial biofuels industry. Though soya beans produce a higher value oil cake and have a lower nitrogen requirement, they are less drought tolerant and produce less oil than sunflower seeds" he says.
Meanwhile, biodiesel is produced through a reversible transesterification process in which ethanol and plant oil are converted to biodiesel and glycerol in a reaction that takes place in the presence of a catalyst, such as sodium hydroxide or potassium hydroxide.
However, the process requires good-quality control, since the presence of water may result in the production of soap and not biodiesel. Several researchers are focusing on this conversion system to reduce costs and risks associated with biodiesel production worldwide.
Part of the goal of research is to enable farmers to access more markets for their crops to enable them to hedge their financial risks arising from price fluctuations. For example, producing oil-rich sunflower cultivars that farmers can plant will provide them with more options to maintain profitability, says Swanevelder.
"Farmers already plant sunflowers when conditions for maize are not optimal, as sunflowers can be planted later in the season and are more hardy in dryland production. The research and development being done on sunflowers will help to ensure the sustain- ability of agriculture in South Africa and, hence, food security, as well as reducing the financial risks faced by farmers in South Africa," he notes.
Further, farming and agriculture have a significantly larger indirect benefit than most other primary industries and investments in agriculture, typically, have twice the impact that investments in other industries have, the United Nations Food and Agricultural Organisation found in a 2008 study.
"We should be a much more active farming nation, as the knowledge of planting and harvesting crops often takes many years and sometimes generations to gain. This opportunity must be seized if South Africa wants to create significant number of jobs, while producing commercially viable produce that can also be used in nonagricultural industries," concludes Britz.