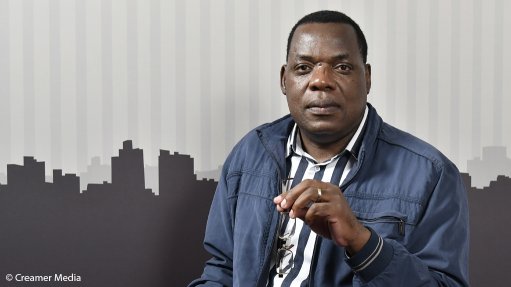 Photo by: Creamer Media's Donna Slater
In this opinion piece, Creamer Media Senior Deputy Editor Martin Zhuwakinyu writes about innovations developed in South Africa during 2019.
South Africans are an innovative lot. Much of the world knows about Christiaan Barnard, the surgeon who performed the world's first heart transplant in 1967, but many other citizens of this great nation who introduced a multiplicity of amazing innovations in various fields remain below the radar. Their inventions may not have had as dramatic an impact as the pioneering heart transplant, but they contributed – and continue to contribute – towards improving the lot of humankind.
This week, I pay tribute to some of the unsung heroes and heroines whose innovations were unveiled in recent times. One of them is Lucky Netshidzati. The 26-year-old entrepreneur from rural Limpopo was born to deaf parents, which motivated him to develop a smart glove sensor that converts South African sign language into voice and text. A deaf person wears the glove – which works with a mobile app – and, when he or she signs in South African sign language, the glove translates the sign language into speech.
"The glove creates real-time communication between deaf people and people who can hear," Netshidzati, CEO and founder of a company called Rudzambilu Holdings, told an interviewer in November.
While similar inventions have been developed elsewhere in the world, Netshidzati's is tailored to South African sign language and is reportedly more advanced than competing products.
Another noteworthy recent inventor is Lungelwa Tyali, who hails from the Eastern Cape and, like Netshidzati, is an entrepreneur. SolarTurtle, a company she cofounded, has developed a mobile solar kiosk that can be used in off-grid areas to provide immediate relief for people who struggle to keep their mobile phones and lights on. The container-based energy kiosk features automated solar panels that deploy and fold away automatically for transport or if there is a threat – such as a windy storm or a protest.
SolarTurtle's innovativeness has not gone unnoticed. In April, the South African National Energy Development Institute and the Department of Science and Technology contracted the black-empowered company to develop the next-generation solar energy kiosk, called the BabyTurtle, which is smaller than the current units. The BabyTurtles can be moved to events, taxi ranks, schools or other high-foot-traffic areas where people need to recharge their phones.
During the three-year contract period, SolarTurtle will produce, test and commercialise the new solar-powered units.
Meanwhile, a company that was founded by Limpopo-born social entrepreneur Murendi Mafumo has developed a water purification system that uses an activated carbon filter made from macadamia nut shells in conjunction with nanofibres. The low-pressure system – which is said to be effective in removing more than 99% of all pollutants, including bacteria and viruses – can be gravity fed or solar powered, which eliminates the need for grid electricity, making it ideal for providing safe drinking water in rural areas or in informal settlements.
But innovation and creativity are not the preserve of those who are established in their career – even students are getting in on the act. A case in point is Stellenbosch University second-year chemical engineering student Leila Siljeur, who has developed an edible drinking straw. The 'Eat Me Straw', which is biodegradable, comes in various flavours and does not become mushy when a user puts it in his or her drink.
Siljeur developed the new straw after seeing photographs of a sea turtle with a plastic straw stuck in its nose.
She won R50 000 for the invention at the Allan Gray Orbis Foundation National Jamboree, in July, and intends to use the money to develop the product and her business plan.
Siljeur aims to have the straws mass-produced once they have been tested and certified by the South African Bureau of Standards. This will result in the retail price dropping significantly from R2 a straw currently.